Wheel of Time Podcasts
Browse the list, sample and enjoy! If you'd like to leave a review for any of the Podcasts (good or bad) or have any suggestions for the list, you can
send an email to Narg
.
The Wheel Weaves
Website:
http://thewheelweavespodcast.libsyn.com
Type:
First Time Readers (NO SPOILERS!)
Status: Ongoing
Number of WoT Episodes: 18 (as of July 30 – 1-2 chapters per Episode + Bonus episodes)
Average Length: 1 hr
Audio Quality: Excellent
Profanity Level: Average
Intro: TWW is a Wheel of Time podcast suitable for first time readers. Join Dani and Brett as they journey into the series for chapter analysis, character break-downs, and (probably wrong) predictions – all from the perspective of a WoT virgin. Guided by Brett, a long-time super fan, Dani reads through the series knowing absolutely nothing! No spoilers here!
First Episode
Reviews:
I'm going through all spoiler free WoT podcast and this one is probably my favourite. Great knowledge and insight. Keep it up! – Ogxxhiyffvh
My husband shared this podcast with me, as I'm reading through these books for the first time as well. I like the premise and I love the podcast so far! Brett and Dani are funny and relatable, making this easy to listen to. – KHoneyford
I've always meant to get into the WoT books, but this might be what pushes me over that edge. Dani and Brett have great chemistry, solid jokes and very quick wit. Having the descriptiveness in each episode really helps motivate me to actually take a crack at this read-through. Highly recommend – Cheeseybite123
Listening to the combo of Dani's beginner predictions and Brett's expertise this is an extremely entertaining way to listen through the chapters of Wheel of Time! It makes me want to re-start the series again, to go through the story alongside the podcast! Excited to keep listening and laughing along with you Dani and Brett!! – Being Karmic
Type: First time Read (no spoilers aside from guesses for future books)
Status: Complete
Number of WoT Episodes: 30. Two per book plus a Q&A and Wrap up Episode
Average length: 1 hr
Audio Quality: Excellent
Profanity Level: The occasional outburst, bleeped if severe
Intro: Since early 2014, The Legendarium Podcast has been tackling classic (and new classic) fantasy literature. Its Wheel of Time series features Craig, Ryan, Kyle, and Kenn, who span the continuum from seasoned expert to first-time reader. The focus is on themes, characters, and applicability; they're not smart enough to do minutiae. Listen if this is your first foray into Randland, or if you want to relive your first time through someone else's eyes.
Reviews:
This is the single greatest podcast in the history of the known space universe cosmosphere. If you do not listen to this podcast then you should be sent to the Hell of the Upside Down Sinners!! I will definitely look into Patreon support. Been a fan of this series since 1995 and I'm always looking for discussion about the books although I rarely ever take part. Keep up the good work. -Mr Carstairs
This is my second read-through the series, and I have to say that I really enjoy listening to the podcast! There are a lot of things that you've brought up that I haven't really thought about and it's so interesting hearing what other people think about what I consider to be my favourite fantasy series, if not my favourite series of all time. -Samithi
I am reading through this series for the 1st time and listening to you guys discuss them is super helpful. So i just wanted to say thanks and keep it up! -Brennon
The White Tower
Website:
http://www.whitetowerpodcast.com
Type:
Reread (Spoiler-free (except for bonus episodes), "a glorified, modern twist, feminist reader's companion".)
Status: Ongoing
Number of WoT Episodes: 38 regular eps w/ no spoilers, 6 bonus eps w/ spoilers (as of July 22, 2019)
Average length: 1 hr 15 minutes
Audio Quality: Excellent
Profanity Level: Red Alert/Expert
Intro: Love the Wheel of Time? Hate the Wheel of Time? SO DO WE! Join Jenn & Jess every week for chapter synapsass, in-depth discussion, and plenty of real talk about Robert Jordan's epic fantasy series.
First

Episode
Reviews:
Still in ep 1, but I like what I've heard so far! You guys clearly know and love the series, and the audio is great quality! (that last point has kept me from continuing with other #wot podcasts in the past…) - Mat
I bloody love these two. Jenn and Jess are hilarious. The best part of #WoTWednesday by ten leagues! :wink: SUBSCRIBE AND MAKE YOUR COWORKERS MADDER THAN AN ASHAMAN WITHOUT HIS SPECIAL WINE! - Rob
This is a great podcast especially for readers just coming to the series or people looking forward to the show. Just getting started there isn't a huge backlog of episodes to slog through and sensitive about spoilers but not to the point of avoiding them. I look forward to listening every week. They are irreverent, slightly vulgar and not afraid to crap on the author when he/they deserve it. A breath of fresh air in an often overwhelmingly complex and rich community filled with fan girls/boys and head-canon. - Aaron
It has been crazy amazing to have found this podcast. I discovered the world of the Wheel of Time over 18 years ago. Robert Jordan made me fall in love with reading. It has been very enjoyable to listen to your guys' synopses and you have me completely rethink the ideas presented in the series that I have never contemplated before. And I've reread this series at least 5 times! I can't get enough. Keep it up! - TenaciousP
As a first time listener to podcasts in general the white tower pod cast has been fun and engaging. The character analysis is in depth and enlightening the only drawback. The only issue I've had is silly on my part Rand and the others are 20 not 18 - Neal
tWoTcast
Website:
www.twotcast.com
or
www.studiojohara.com/twotcast.html
(easier to navigate)
Type:
Reread (Contains Major Spoilers!)
Status: Complete
Number of WoT Episodes: 105 over 15 books, Average of 7 per book
Average length: 1 hr 30 min
Audio Quality: Excellent
Profanity Level: Extreme, would make a Trolloc blush, Suitable for deaf children....
Other Casts:
Kingkiller Chronicles
(Ep. 122),
The Stormlight Archive
(Ep. 160)
Intro: tWoTcast is the Wheel of Time podcast featuring Jono, Joe and Tom with Lauren as editor. Enjoy rereads and commentary of the Wheel of Time book series written by Robert Jordan and completed by Brandon Sanderson. Our reread of the entire fourteen book series can be found in episodes 1-100 with the prequel New Spring in the episodes following. Also, LIVE shows from conventions, rereads of other book series and other general nerd culture discussions
First Episode
Reviews:
tWoTcast rocks. Wheel of Time discussion mixed with booze, philosophy, and occasional profanity, perfect for sunday listenin out on the deck. Deck yeah! -Willystickman
You guys rock! Insensitive, vulgar, but also oddly illuminating. That Jono guys a sexist pig. -Jack shepphard
Always entertaining but also informative. I never knew how much was hidden between the sheets... sorry...lines of this series. So much to learn and so little vodka - cheers boys. -08rr
They Came, They Read, They Passed Out -Olly
Type: Reread (Contains Spoilers!)
Status: Ongoing
Number of WoT Episodes: 116 (as of June 18), one chapter per Ep.
Average length: 45 min
Audio Quality: Excellent
Profanity Level: Useful
Intro: A deep dive into the hidden meaning, identity, and motivation in the story of The Wheel of Time. Designed for readers who have finished the series and are looking for more understanding without memorizing all the different Aes Sedai.
Reviews:
Finished WOT last night, and this kind of in depth discussion is exactly what I was hoping to find. - Winfield Johnny
I was so ecstatic to find this. Can't wait to see the series discussed chapter by chapter. And how all of this relate. I have been reading this series since I found it years ago. Loved the first podcast and how there is such a rich history. This is perfect for long time readers wanting more info on this universe. Thank you and please don't stop! -Ritacba
I started these books back in the early 90's, so they have been part of my life for such a long time. The books and the characters are like old friends to me. I love listening to the podcast. These guys are so detailed and dedicated to the story, sometimes serious, sometimes amusing. It's nice to know that I have people on the other side of the world that love WOT like I do (probably more)! Well done! -rnrodgers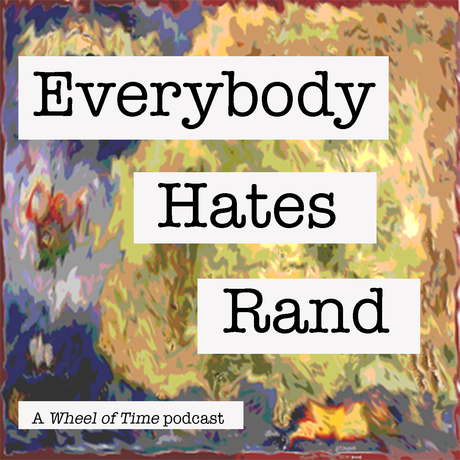 Type: Reread (Contains Spoilers!)
Status: Ongoing
Number of WoT Episodes: 37 (as of 17 October)
Average length: 50 min
Audio Quality: Good
Profanity Level: High, Elayne would be taking notes...
Other Casts:
Intro: Just two hyper-critical English majors talking some pretty big game about The Wheel of Time. Co-hosts Emily and Sally gather around their kitchen table each week to serve you up a full fantasy feast of oft-misremembered summary, hot analysis, scraps of literary theory, and a whole lot of hating Rand.
Reviews:
Y'all are dope! Thanks for making work suck less. -Skylar
Don't ever change your style. Four episodes in and I'm hooked. I know you're aiming for new mics, but I found the sounds of someone getting up to open a fridge without editing hilarious. -Lou
The Wheel of Time PodThru
Website:
http://wotpodthru.libsyn.com
Type: Reread (We Spoil Everything)
Status: Ongoing
Number of WoT Episodes: 12 (as of 17 October)
Average Length: 30 - 45 min
Audio Quality: Good
Profanity Level: We're adults but try to keep it clean…our moms are listening
Other Casts:
Intro: We are just a married couple who love the Wheel of Time, and want to talk about what we love about the story and how it relates to the world we live in. We will be focusing on 2 chapters each week, starting with the TEOTW, and hope that in sharing our love for this series we can inspire others to share their thoughts as well. We are not concerned with spoilers, but try to focus on what is happening in each chapter instead of how it will unfold across several books
First Episode
Reviews:
Also! WOTpodthru, your podcast gets the Thom Thumb seal of approval for premium fun levels and making us feel we're right there with you! - Rob
The Dragon Reread
Type: Reread (Contains Minor Spoilers!)
Status: Ongoing
Number of WoT Episodes: 41 (as of September 28)
Average length: 1 hr
Audio Quality: Good
Profanity Level: Enthusiastic
Intro: We're reading the Wheel of Time series of fantasy novels by Robert Jordan! We read them when we were younger, but now we are wiser. Why? Because they're so much fun! Adventure, magic, battles, politics, treachery, horses, braid-pulling... these books are top flight entertainment. They're also, as the kids say these days, "problematic". We'll dig into it as we go. We read about 5 chapters every episode, and we recap the events of the story, so you don't have to read along unless you want to. Join us!
Reviews: