Wheel of Time Podcasts
If you are a first time reader
of '
The Wheel of Time
', the only podcast safe for you (if you wish to avoid spoilers) is 'The Legendarium'. Rereaders, browse the list, sample and enjoy! If you'd like to leave a review for any of the Podcasts (good or bad) or have any suggestions for the list, you can do so
HERE
.
Type: First time Read (no spoilers aside from guesses for future books)
Status: Complete
Number of WoT Episodes: 30. Two per book plus a Q&A and Wrap up Episode
Average length: 1 hr
Audio Quality: Excellent
Profanity Level: The occasional outburst, bleeped if severe
Intro: Since early 2014, The Legendarium Podcast has been tackling classic (and new classic) fantasy literature. Its Wheel of Time series features Craig, Ryan, Kyle, and Kenn, who span the continuum from seasoned expert to first-time reader. The focus is on themes, characters, and applicability; they're not smart enough to do minutiae. Listen if this is your first foray into Randland, or if you want to relive your first time through someone else's eyes.
Reviews:
This is the single greatest podcast in the history of the known space universe cosmosphere. If you do not listen to this podcast then you should be sent to the Hell of the Upside Down Sinners!! I will definitely look into Patreon support. Been a fan of this series since 1995 and I'm always looking for discussion about the books although I rarely ever take part. Keep up the good work. -Mr Carstairs
This is my second read-through the series, and I have to say that I really enjoy listening to the podcast! There are a lot of things that you've brought up that I haven't really thought about and it's so interesting hearing what other people think about what I consider to be my favourite fantasy series, if not my favourite series of all time. -Samithi
I am reading through this series for the 1st time and listening to you guys discuss them is super helpful. So i just wanted to say thanks and keep it up! -Brennon
tWoTcast
Website:

www.twotcast.com

or

www.studiojohara.com/twotcast.html

(easier to navigate)

Type: Reread (Contains Major Spoilers!)

Status: Complete

Number of WoT Episodes: 105 over 15 books, Average of 7 per book

Average length: 1 hr 30 min

Audio Quality: Excellent

Profanity Level: Extreme, would make a Trolloc blush, Suitable for deaf children....




Intro: tWoTcast is the Wheel of Time podcast featuring Jono, Joe and Tom with Lauren as editor. Enjoy rereads and commentary of the Wheel of Time book series written by Robert Jordan and completed by Brandon Sanderson. Our reread of the entire fourteen book series can be found in episodes 1-100 with the prequel New Spring in the episodes following. Also, LIVE shows from conventions, rereads of other book series and other general nerd culture discussions
Reviews:

tWoTcast rocks. Wheel of Time discussion mixed with booze, philosophy, and occasional profanity, perfect for sunday listenin out on the deck. Deck yeah! -Willystickman

You guys rock! Insensitive, vulgar, but also oddly illuminating. That Jono guys a sexist pig. -Jack shepphard

Always entertaining but also informative. I never knew how much was hidden between the sheets... sorry...lines of this series. So much to learn and so little vodka - cheers boys. -08rr

They Came, They Read, They Passed Out -Olly
WoTspoilers
Type: Reread (Contains Spoilers!)
Status: Ongoing
Number of WoT Episodes: 116 (as of June 18), one chapter per Ep.
Average length: 45 min
Audio Quality: Excellent
Profanity Level: Useful
Intro: A deep dive into the hidden meaning, identity, and motivation in the story of The Wheel of Time. Designed for readers who have finished the series and are looking for more understanding without memorizing all the different Aes Sedai.
Reviews:
Finished WOT last night, and this kind of in depth discussion is exactly what I was hoping to find. - Winfield Johnny
I was so ecstatic to find this. Can't wait to see the series discussed chapter by chapter. And how all of this relate. I have been reading this series since I found it years ago. Loved the first podcast and how there is such a rich history. This is perfect for long time readers wanting more info on this universe. Thank you and please don't stop! -Ritacba
I started these books back in the early 90's, so they have been part of my life for such a long time. The books and the characters are like old friends to me. I love listening to the podcast. These guys are so detailed and dedicated to the story, sometimes serious, sometimes amusing. It's nice to know that I have people on the other side of the world that love WOT like I do (probably more)! Well done! -rnrodgers
Type: Reread (Contains Minor Spoilers!)
Status: Ongoing
Number of WoT Episodes: 28 (as of June 18)
Audio Quality: Good
Profanity Level: Enthusiastic
Intro: We're reading the Wheel of Time series of fantasy novels by Robert Jordan! We read them when we were younger, but now we are wiser. Why? Because they're so much fun! Adventure, magic, battles, politics, treachery, horses, braid-pulling... these books are top flight entertainment. They're also, as the kids say these days, "problematic". We'll dig into it as we go. We read about 5 chapters every episode, and we recap the events of the story, so you don't have to read along unless you want to. Join us!
Reviews:


Everybody Hates Rand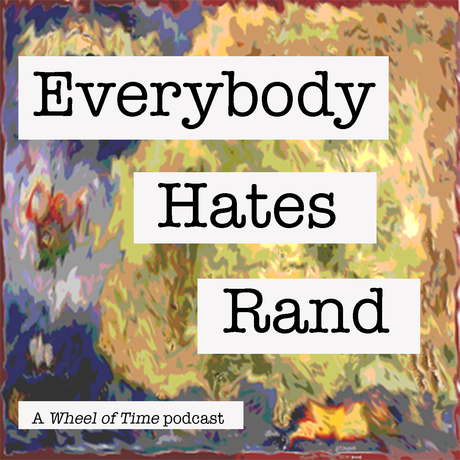 Type: Reread (Contains Spoilers!)
Status: Ongoing
Number of WoT Episodes: 21 (as of June 18)
Average length: 50 min
Audio Quality: Good
Profanity Level: High, Elayne would be taking notes...
Other Casts:
Intro: Just two hyper-critical English majors talking some pretty big game about The Wheel of Time. Co-hosts Emily and Sally gather around their kitchen table each week to serve you up a full fantasy feast of oft-misremembered summary, hot analysis, scraps of literary theory, and a whole lot of hating Rand.
Reviews:
Y'all are dope! Thanks for making work suck less. -Skylar
Don't ever change your style. Four episodes in and I'm hooked. I know you're aiming for new mics, but I found the sounds of someone getting up to open a fridge without editing hilarious. -Lou
Type:
Status: Ongoing (Started July 2018)
Number of WoT Episodes: 1
Average length: 1hr
Audio Quality: Good
Profanity Level:
Other Casts:
Intro: Born out of a conversation on Facebook about reading through The Wheel of Time, Hank, Josh and Jaime decided to embark on a high and lofty journey, yay even an epic one. These three friends–who happen to be authors and podcasters– thought it would be fun to traverse the massive world that Mr. Jordan built and discuss it as they went. Their hope is to learn from the master, talk about what they learn, and hopefully help bring others into this world.
Reviews:
The Wheel of Time PodThru
Website:
http://wotpodthru.libsyn.com
Type: Reread (We Spoil Everything)
Status: Ongoing
Average Length: 30 - 45 min
Audio Quality: Goodish
Profanity Level: We're adults but try to keep it clean…our moms are listening
Other Casts:
Intro: We are just a married couple who love the Wheel of Time, and want to talk about what we love about the story and how it relates to the world we live in. We will be focusing on 2 chapters each week, starting with the TEOTW, and hope that in sharing our love for this series we can inspire others to share their thoughts as well. We are not concerned with spoilers, but try to focus on what is happening in each chapter instead of how it will unfold across several books
First Episode
Reviews:
Acknowledgements: Thanks to @wotsummary , Jeff, Seth, Craig and EHR and anyone else who
helps update the list in the future
!