The Daily Trolloc (100)
Weekly Issue 100. (Art by Josh Hass)
Bursting through doors everywhere!
Wheel of Time TV News
Well nothing especially special in the 100th edition of The Daily Trolloc but there is some news...
Amazon have launched their official social media accounts for the show. The have gone with the "onprime" method of branding...
WoTonPrime
.
Not to be confused with...
Capitalisation is important!
The @wotwritersroom twitter account has been taken over by Amazon and rebranded with the new handle:
They also have
Instagram
, a Reddit handle(
u/WoTonPrime
) and what appears to be a
Facebook page
(under construction) under the same name. Pick your poison, and follow one of them. They'll be the first place to get all the latest official news, teasers, first looks etc as the show moves into production and beyond.
They'll no doubt have something to say this coming Wednesday...perhaps some more casting news...
Speaking of casting...
KVH Casting shared the following on her Instagram story:
Strong hint that something is up!
Czech Republic(or Czechia) casting agency
,
Extrafilms
published a call for extra's to register in Prague about a week ago on their
Facebook page
:
Are you ready?

We ARE

It starts in September.....

There will be a lot of stuff up until May

You have a lot to look forward...

Not only there is the continuation of CARNIVAL ROW (that is the whole season 2), but most importantly we look forward to a whole new awesome fantasy project which will be shot from September to May (sadly we cannot say the name but you have a lot to look forward...)

So check whether you have up to date pictures at our agency (no older than 2 years, or in case you changed your looks you need to be re-shot....)

... and those of you who are not registered, come and register as soon as possible before the first costume tests... IT IS SIMPLE, all you need to do is to come at any announced registration date, currently on wednesday 31th July or on wednesday 7th August, always between 2 pm and 6 pm, to our place at Karlovo náměsí 17, Praha 2 (anytime without the need of annoucement before).

We look forward to meeting you... and because we will need a lot of interesting people of all ethnic groups we will be glad for sharing to your friends.
Filming in Prague...check!
Awesome new Fantasy series...check!
Shrouded in secrecy...check!
Filming sept-may...check!
Have provided extra's for previous Amazon shows...check!
Looks like a Wheel of Time casting call to Narg! Might want to pop down on the 7th if you live close by and want a chance of being an extra. If it turns out to be a
Hostel type situation
, Narg apologizes for your dismemberment...
General Wheel of Time News
Oh my, what a journey we have had this week. My dear fellow travelers, we have done it. This is the last recap post for The Dragon Reborn. It's been an interesting ride! I apologize for the length of the recap portion as well. I tried to be brief but it was a very tricky set of chapters to sum up, with lots of details in lots of different places, and we kept switching rapidly between different scenes and different povs. It did give the whole thing a rather cinematic feel, though, and it also contributed to the sense of just how fast everything was happening.
The RandlandTV
podcast have dropped their
first episode
:
There's no show without a writers' room, and we want to know exactly who holds the future of Randland in their inky quills. From there we revisit chapters 1-10 of Robert Jordan's "Eye of the World" as we examine predictions for what the TV pilot will entail. Hold your horses as we continue our journey through Randland in the premiere of a new RPG, "Ta'veren't: Adventures of a False Dragon."
Amalthea Elanor wrote
an interesting and well written article on tay.kinja.com:
Five Reasons Why The Wheel Of Time TV Series Could Be Amazing
With Game of Thrones coming to an end, everyone is looking for the next great book series to become a hit. And Amazon is banking on The Wheel of Time, one of the most prominent and successful fantasy series of the last 30 years. And Wheel of Time is a great pick; it is a contemporary to A Song of Ice and Fire, but at the same time, a decidedly different tale from that of political intrigue and scheming for a throne.
Because you can never
get too much Narg...
Featured Art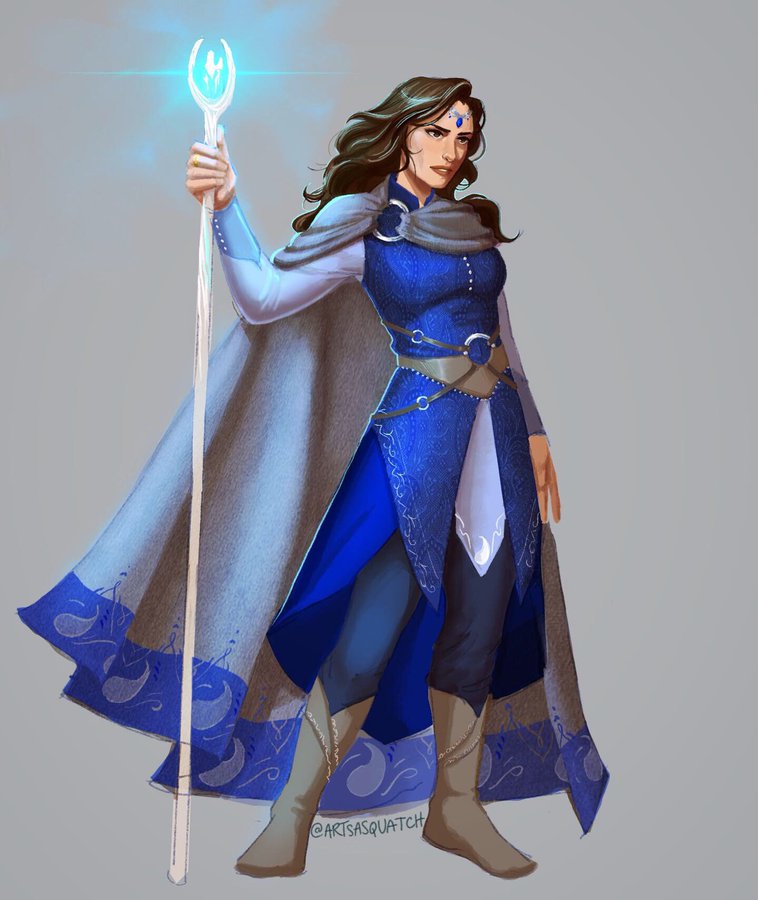 By Michelle Leffler
Be sure to check out their accounts for more great art!
Well that's it for the 100th edition of The Weekly Trolloc...see it doesn't sound as good...The Daily Trolloc. Maybe Narg will have something special for the 200th edition...😎
As always, y
ou can see all available information about the show by
CLICKING HERE
.