The Daily Trolloc (61)
Wheel of Time News
Sarah Nakamura was announced by Rafe as a book consultant for Wheel of Time Wednesday:
Introducing another member of the Wheel of Time team - Sarah Nakamura, our LA-based book expert. They say 10,000 hours makes you a master, and she's read the entire series THIRTY TIMES (about 12,600 hours of WoT). I've yet to stump her with a question. #WoTWednesday
There were some interesting discussions that followed this announcement, one of which gave us a slightly clearer look at the timeline with Amazon. It looks like Rafe pitched the show to Amazon around July-September 2017 and that they put it into development either a few weeks after that or around December. The December date lines up with
Rafe giving a social media tease
,
Ted Field's Lawyer indicating some Wheel of Time
news may be coming(January) and Rafe and Amanda Kate Shuman apparently
working on the show in Guatemala(February)
, as well as the brief mention by Deadline.
In other news:
Voting for The PBS Great American Read
closes Thursday, October 18, 2018 at 11:59pm PT. Remember you can vote daily in multiple ways, so
get those votes in, and give The Wheel of Time a strong finish
!
Cave Geek Art
is doing a Wheel of Time map on leather.
He's live-streaming it on twitch
, if you want to take a peak at how he does it.
Tor's current WoT
read along is still chugging along:
Between Desire and Compulsion in Robert Jordan's The Great Hunt (Part 11)
Welcome to week 11 of Reading The Great Hunt. Last time, I made an observation about Rand's relationship with saidin* that lead to a lot of interesting observations from commenters. I made an observation about how Rand notices that he feels less alive after he stops touching saidin, and took it to mean that channeling is a such an intrinsic part of someone that if they are denied it they feel incomplete in some way, less whole, less their true selves. I've been seeing this theme in Jordan's work since back when Moiraine forced Nynaeve to recognize her abilities back in the early days of The Eye of the World, and the theme of fear and denying one's true self (or being forced to) shows up with Elyas and Perrin as well. I suspect it will continue to do so, but some of the commenters brought to my attention another interpretation of this moment that I had overlooked; the suggestion that the One Power has an addictive quality for those who use it, and one that can be very dangerous.
If you haven't been following since the beginning, you can find all the instalments
HERE
.
If you ever need to erase a bad day from your memory...this may help:
Drink in moderation or risk unravelling!
Featured Art
Here's the latest from Inktober: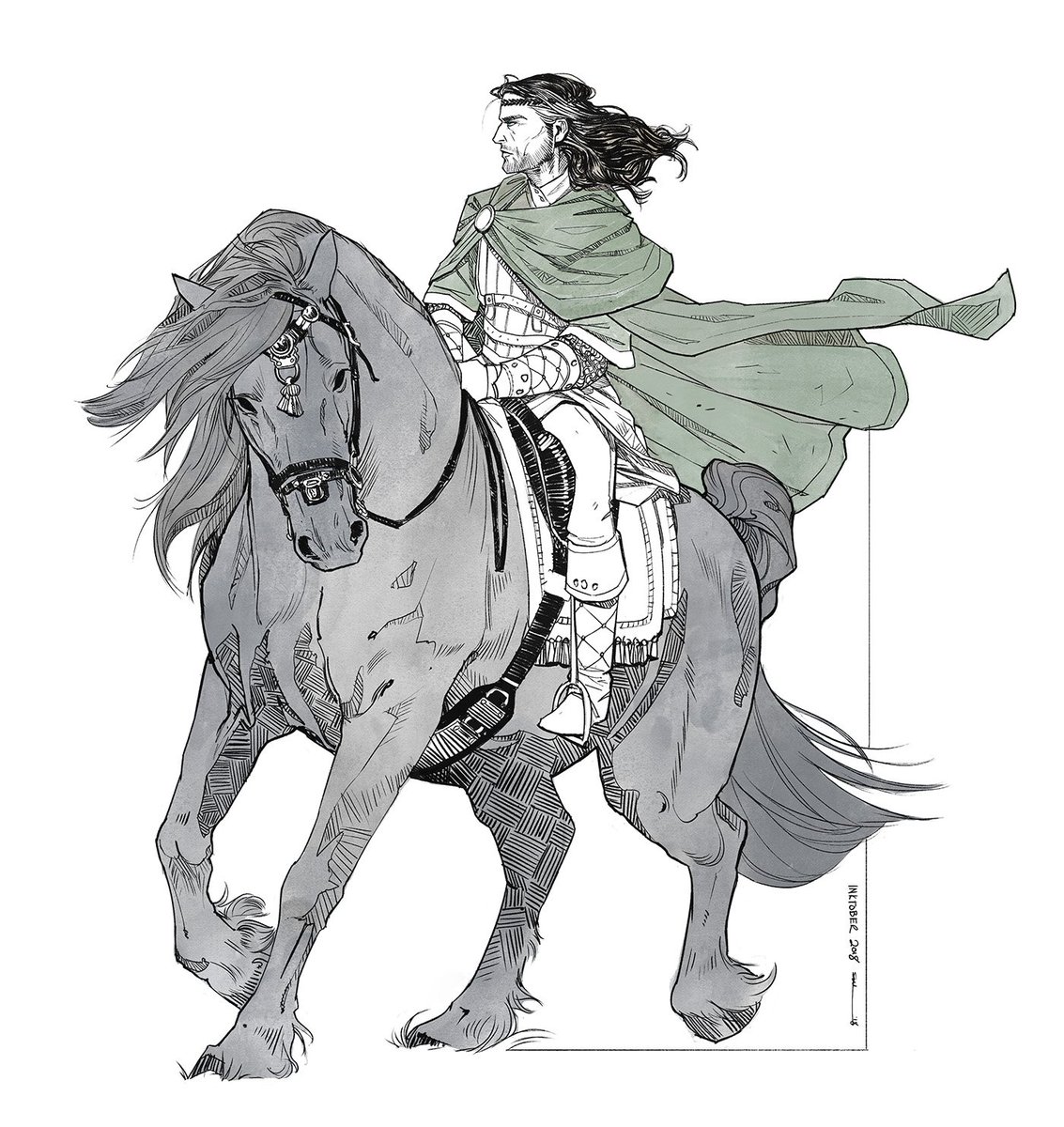 What we know:
Status:
Greenlit "Pre-production"
Network -
Amazon Prime Video
Production Studio -
Sony Pictures Television
Production Company -
Radar Pictures
Show Runner/Writers -
Rafe Judkins
,
Amanda Kate Shuman
Assistant to Rafe:
Patrick Strapazon
Executive Producers -
Ted Field
,
Mike Weber
,
Darren Lemke
,
Red Eagle
Consulting Producer -
Harriet McDougal
Book Consultant -
Sarah Nakamura