The Daily Trolloc (54)
Wheel of Time News
Playing the Bela card so early is a risky strategy. Hard to go up from there😉, though it paid dividends and Rafe cracked 1000 likes on twitter for the first time.
CivilizationEx continued their Wheel of Time History lessons
with a fresh YouTube Video:
Wheel of Time: After Breaking (Part 1 of 2 - Book Spoilers)
A brief history of the Wheel of Time after the breaking of the world. From the formation of the Compact of Ten Nations to the Trolloc Wars. Based on the Wheel of Time Series written by Robert Jordan.
Werthead from the Atlas of Ice and Fire blog posted an
Introduction to his Wheel of Time Atlas
project. You'll probably find it more interesting if you haven't read "
The World of Robert Jordan's Wheel of Time
", though Narg is sure there are a few interesting titbits that you haven't read before.
The Winter Is Coming website
posted an article about
production issues that The Wheel of Time TV series will have to overcome
:
Amazon, along with Sony Pictures Television, Red Eagle Entertainment, and Radar Pictures, is developing a television adaptation of Robert Jordan's Wheel of Time series. While this sounds like great news for fantasy fans, there are a lot of hurdles to overcome before this fantasy becomes a reality.
While the article does have positive things to say about WoT, Narg found the negative points they brought up as hurdles, to be overly pessimistic, especially since all of those points were the very same reasons why many people thought
A Song of Ice and Fire
could not be adapted for TV, including George R R Martin himself, who set out to write a series that was "Unfilmable". HBO proved them wrong.
Narg is sure Amazon, if they choose to do so, has the money to make it happen and Sony Pictures Television, has the experience to make Jordan's and Rafe's vision filmable.
TarValon.net has officially announced the winners
of their "2018 Robert Jordan Scholarship":
After a long process, many votes by the Hall of the Tower and verification of education ect I am pleased to announce the site has selected our two winners for this years scholarship. The scholarship will be sent in the amount of 500.00 a piece. I would like to thank everyone who had a part in this process and more importantly- THANK YOU as the membership of the tower- you make this thing possible.
You can
see who won and read their entries HERE
.
Don't forget to keep voting in the Great American Read!
Blast from the Past
From an Email Interview way back in 2000:
QUESTION

I read a two year old interview on the web which had you say you could not see your series turn into movies; what changed your mind?

ROBERT JORDAN

The words "mini-series" and "at least four hours and possibly six." I still don't see any way that one of the books could be pared down enough to fit into the usual two-hour theatrical release, but four or six hours makes a difference.
and
QUESTION
Where did the idea of the Wheel of Time come from?
If you mean simply the concept of time as a wheel, that comes from the Hindu religion, though many cultures have or had a cyclical view of the nature of time. If you mean the books, then the idea came from many things. From wondering what it really would be like to be tapped on the shoulder and told, "You were born to save mankind. And, by the way, you're supposed to die in the end, it seems." I wondered what a world might be like where the feminist movement was never necessary simply because no one is surprised to see a woman as a judge or ruler, a wagon driver or a dock hand. There's still some surprise at a woman as a soldier—a matter of upper body strength, and weapons that need upper body strength—but by and large, the question of a woman not being able to do a job just doesn't arise. I wondered what it wold be like if the "wise outsider" arrived in a village and said, "You must follow me on a great quest," and the people there reacted the way people really react when a stranger shows up and offers to sell them beachfront property at incredibly low prices. I wondered about the source of legends, about how events are distorted by distance—either spatial or temporal—about how any real events that might have led to legends would probably be completely unrecognizable to us. This is getting entirely too involved, so let's just say that the books grew out of forty-odd years of reading everything I could get my hands on in any and every subject that caught my interest.
and
QUESTION

What inspired you to write?

ROBERT JORDAN

I decided that I would write one day when I was five. I had finished From the Earth to the Moon, Tom Sawyer and Huckleberry Finn, and I stood them up on a table and sat staring at them with my chin on my knees—I was rather more limber, back then!—and decided that one day I would make stories like that. But by age seven or eight, it seemed to me that writers who made a living from writing all lived in Cuba or Italy or France, and at that age, I wasn't sure about that big a move. I followed my second love, science and math, got my degree in physics and mathematics, and became an engineer. I didn't try writing at fifteen or twenty, because I didn't think I had enough experience; I had nothing to say. At thirty, I was injured, spent a month in the hospital, nearly died, and took four months to recuperate enough to return to my office. I decided it was time to put up or shut up about writing one day, and the rest followed.
You can read the
full interview on the Theoryland database
!
That's it for another week, as always here's everything we know about the show:
The Wheel of Time TV Show
News:
(30 July 2018)
Episode two's title is revealed as "Shadow's Waiting" and Amanda Kate Shuman is the writer:
(23 July 2018) The title for Episode one (Leavetaking) is revealed by Rafe on Instagram and Twitter:






(14 July 2018)

Rafe Judkins updated us on what he was working on:

You can read everything he had to say
HERE
.
(11 June 2018)
Amazon Studios Head, Jennifer Salke confirmed that the Wheel of Time is in development at Amazon
during an interview with
Deadline
.
DEADLINE: What is the status of other high-profile genre projects that have been in early development at Amazon or stuck in deal-making limbo for a long time, The Wheel of Time (based on the fantasy books), and The Dark Tower, (based on the book and the movie)?

SALKE: Those are scripts that I haven't gotten yet. I'll be seeing those, that material, in the coming weeks. None of those things are dead. They're very much alive.
While this is great news, Narg must stress that until Amazon come out and say that they have ordered the show to series and it goes into production, there is still a possibility that it won't happen.
Having said that though, Sharon Tal Yguado the Head of Genre at Amazon and the person who would be directly overseeing the work being done, seemed happy that the news was out.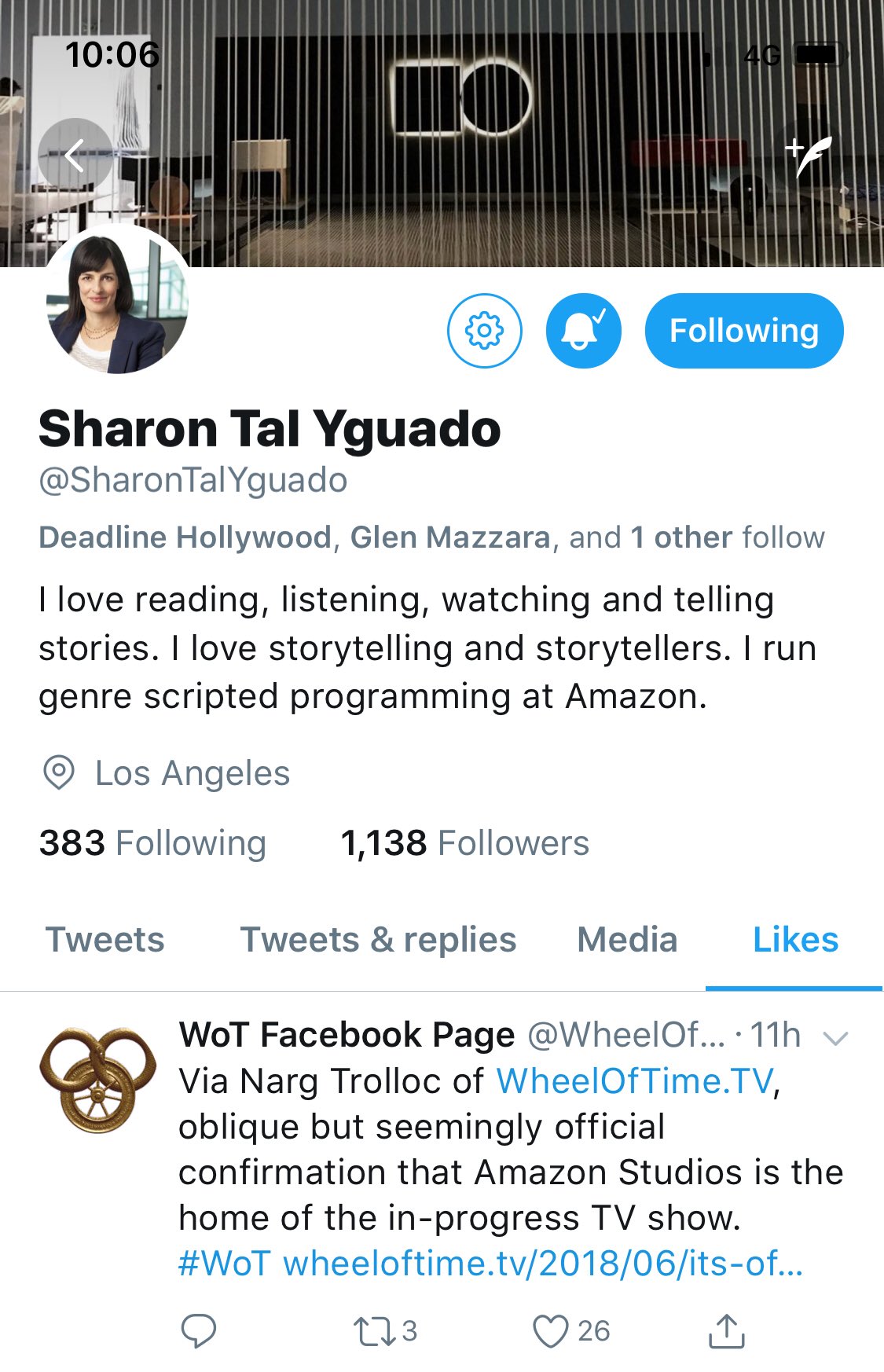 (22 April 2018)
Harriet McDougal confirmed that the show does have a distributor/network attached.
This has been widely speculated but had not been confirmed by anyone attached to the show. No word on who, but
Amazon
remains the favorite given what's below and she said it wasn't a traditional network.

(9 April 2018) Head of Genre/Event series at Amazon Studio's Confirms Dark Tower via Twitter then deletes tweet.
Though not directly related to WoT, this does lend credence to the Deadline article mentioned below. Narg was highly skeptical of WoT actually being in development with Amazon based on just that article, but it would seem highly probable that it is, now that the DT part has been proven correct. Also worth noting is that The DT showrunner mentioned having just completed a new script, and we know Rafe
via Instagram inferred
he had a deadline for his WoT script coming up a few weeks ago. Could be that they had the same Deadline.

(21 Feb 2018) In an article by Deadline concerning Amazon picking up Iain M. Banks' classic sci-fi Culture book series, the following was said:
As part of the effort, Amazon made a mega deal for a Lord Of the Rings TV series and is developing a slew of high-profile titles, including The Dark Tower, Wheel of Time, Ringworld, Lazarus and Snow Crash.
Error, wishful thinking or letting the cat out of the bag? Which ever it is, Narg isn't believing it until Amazon themselves announce it or Deadline actually reports the news in a dedicated article.
Quite a few news websites
have reported the story, most of them focusing on
The Dark Tower
mention using the above quote as their source. Screenrant.com and IGN being the biggest of the bunch, but major Industry sites like Variety, The Hollywood Reporter haven't. Tor.com is also choosing not to bite yet.
Attempts by Narg and others to get clarification from Deadline have yielded zero results and all Amazon had to say was:
Amazon.com does not comment about rumors or speculative news reports.
(9 Feb 2018) Ted Field is in the news again and promoting The Wheel of Time.
In an article on
Deadline
he had the following to say:
"If Beirut is arriving at a difficult time, Field believes his TV show with Sony, Wheel of Time, may find its moment. The show is set in the distant future when women now rule a universe that has been all but destroyed by the male power structure – "the ultimate gender dynamics series," Field says. The show is based on a series of 14 volumes written by Robert Jordan (pen name for James O. Rigney Jr). "Timing is part of the roller coaster ride," Field observes.
(2 Feb 2018)
Rafe Judkins
the Wheel of Time Showrunner
teased us with the Hashtag #WoTmeets LotR
from Guatemala where he was on a writers retreat, seemingly indicating he was working on WoT.
Three weeks ago it was announced that
Rafe had been picked to rewrite the Uncharted Movie
. Looks like that gig isn't getting in the way of him working on WoT.
(18 Jan 2018)
Ted Fields Lawyer spoke to
the Hollywood Reporter and teased us with this:
One of those announcements will be a television series for Wheel of Time
Other than that
not a peep since JordanCon back in April 2017, at which we learnt the following:
Sony Pictures Television has signed a contract with executive producer Ted Field of Radar Productions (with whom Bandersnatch Group signed a contract last year) to develop a TV production of the Wheel of Time series.
And a week or so later:
We understand that Rafe and Ted are currently in discussions with a number of content distributors/networks, and that negotiations will be concluded soon. Sorry, we don't know who they are.
Source for both comments from
Robert Jordan's The Wheel of Time Googleplus page
.
Disclaimer:
Please note that this is a fan site. It is not official. Wheeloftime.tv has no affiliation with Amazon Studios, Sony, Radar Pictures, The Bandersnatch Group or Red Eagle Entertainment.