The Daily Trolloc (53)
Wheel of Time News
This weeks #WoTWednesday came from Fiji, where Rafe Judkins was taking a working holiday: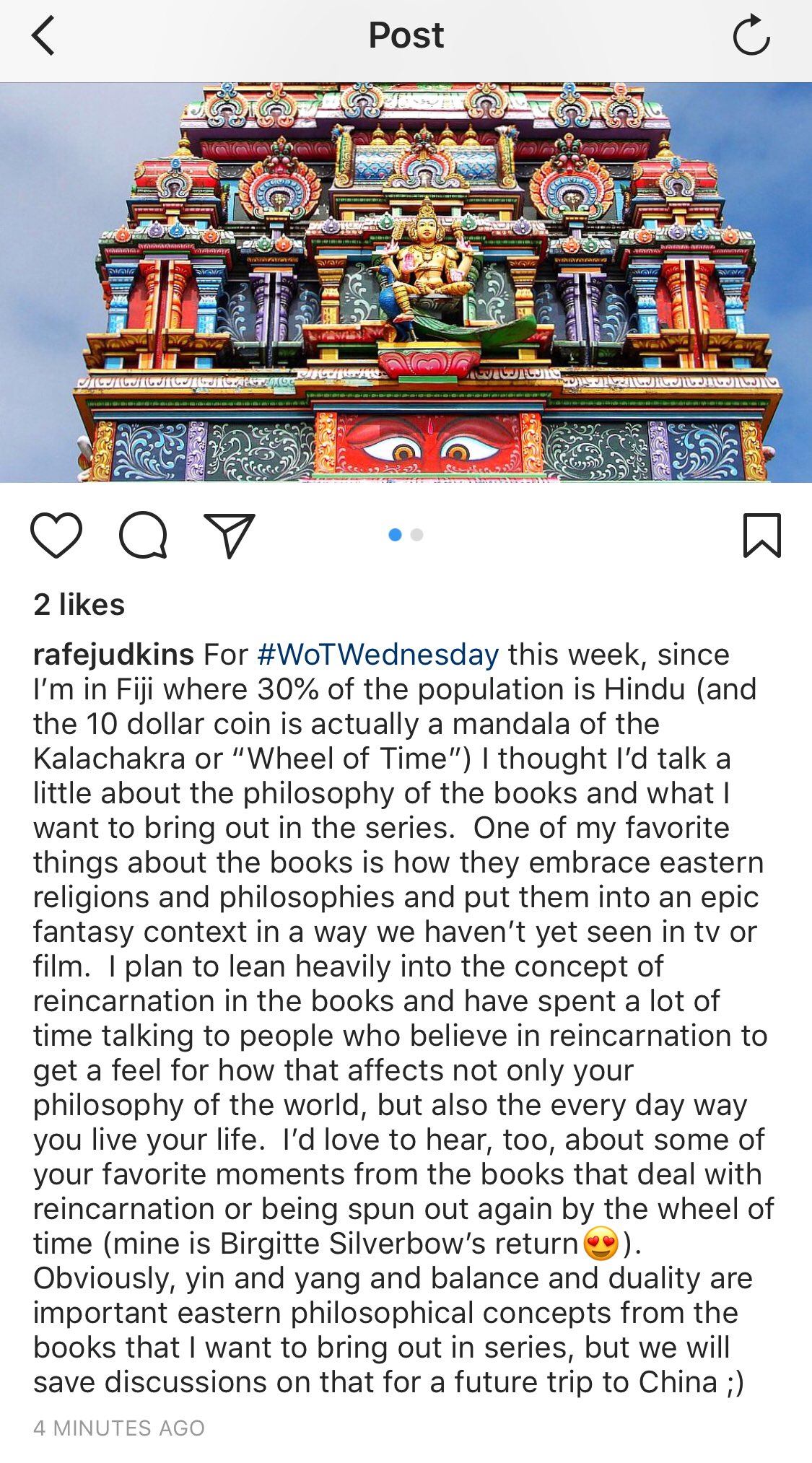 Rafe spent his time at a private tropical island paradise....Guess what that reminds Narg of...
Shayol Ghul (pronounced: SHAY-ol GHOOL) is a great black mountain, once an idyllic tropical island paradise and vacation spot, now the focal point of the Dark One's power.
Narg is sure it is just a coincidence...
"as of right now, the closest to the starting line is Uncharted in that it's a massive title. We now have a very good script"
Rafe was picked to rewrite the script earlier this year.
In other news:
I wonder if there is an Ajah that is more likely than the others to become Black. I suppose it's easy to be suspicious of the Red because we know that they are responsible for hunting down and gentling men with the Power. That makes them enemies of our heroes, of Thom Merrilin and Rand especially. And it suggests a bloodthirstiness, I think, through the choice of color and the willingness to do something that results in such pain, even though it is deemed necessary by all Aes Sedai. And then there is the conflict between the Red and the Blue. The reader mostly trusts Moiraine, and the suggestion that the Red Ajah want to have control over her punishment is a chilling one. Even worse is learning that women are also sometimes stripped of their power; the Aes Sedai are a dictatorship, it would seem; there are no opposing institutions presenting different rules or ideas, and even if stilling is a last resort used only on the truly bad, it does throw a bit more shadow on the already distrusted Tar Valon.
As part of #TrollocMonday
last week some humans shared some terrible human jokes:
Who is Rand's dumbest military leader?
***
**
*
Dobraine (dough-brain)
The next one is slightly better...
Why did Zarine change her hunter's name from Mandarb?
***
**
*
Twas an epic Faile...
There was one more, but Narg will spare you the pain of reading it...
Adam from the Wertzone
has been tinkering around
with Wheel of Time maps for an upcoming post on his
Atlas of Ice and Fire blog
.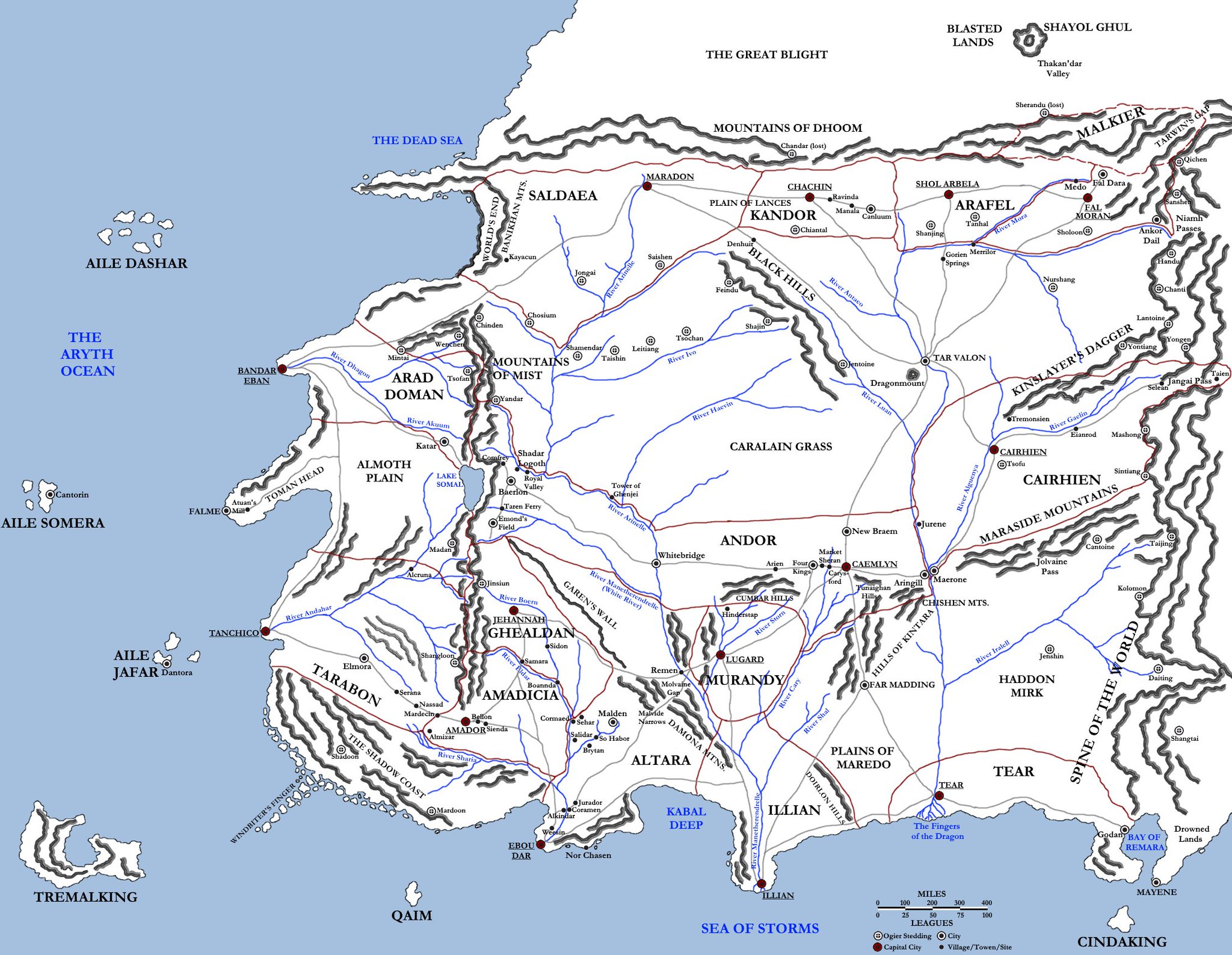 Probably would have been easier to just use this more detailed map by Joystikx.
Blast from the Past
Starlog Interview with Robert Jordan from 2001. Here are a few of the notable points of interest:
"I approach writing stories as if they were meant to be read aloud. Many books aren't done this way and still are great books, but I try for the effect of a classic story teller. Like most other writers of fantasy, I started out not only reading fantasy but going to fantasy and science fiction movies. In more recent years, I've probably see Excalibur two dozen times. Going semi-out-of-genre, Apocalypse Now certainly had an impact on me. It had almost all the detail wrong, but its fantastic elements nonetheless capture the feel of the place, the experience, the sense of the surreal, of abandonment, of being sold out."
and
"I do think the military characters in my fantasy novels are more realistic in terms of how soldiers really are, how they feel about combat, about being soldiers, about civilians. Beyond that, my time in Vietnam certainly has affected a certain moral vision. Not just based on what happened to me, but on the abandonment of a people who had put everything on the line for us. It started me off on a quest for morality, both in religious and philosophical reading, and in my writing. Again one of the central themes in 'The Wheel of Time' is the struggle between the forces of good and evil. How far can one go in fighting evil before becoming like evil itself? Or do you maintain your purity at the cost of evil's victory? I'm fond of saying that if the answer is too easy, you've probably asked the wrong question."
and
"If you're lucky, people will be reading your books in 20 years after you're dead. If you're very lucky, they'll be reading them 50 years later, 100 years later if you're extraordinarily fortunate.
The writer doesn't achieve immortality. Books do. And if people are reading and enjoying my books centuries from now, I couldn't be happier."
You can read the
full transcript of the interview on Theorylands database
.
Featured Art
That's it for another week, as always here's everything we know about the show:
The Wheel of Time TV Show
News:
(30 July 2018)
Episode two's title is revealed as "Shadow's Waiting" and Amanda Kate Shuman is the writer:
(23 July 2018) The title for Episode one (Leavetaking) is revealed by Rafe on Instagram and Twitter:






(14 July 2018)

Rafe Judkins updated us on what he was working on:

You can read everything he had to say
HERE
.
(11 June 2018)
Amazon Studios Head, Jennifer Salke confirmed that the Wheel of Time is in development at Amazon
during an interview with
Deadline
.
DEADLINE: What is the status of other high-profile genre projects that have been in early development at Amazon or stuck in deal-making limbo for a long time, The Wheel of Time (based on the fantasy books), and The Dark Tower, (based on the book and the movie)?

SALKE: Those are scripts that I haven't gotten yet. I'll be seeing those, that material, in the coming weeks. None of those things are dead. They're very much alive.
While this is great news, Narg must stress that until Amazon come out and say that they have ordered the show to series and it goes into production, there is still a possibility that it won't happen.
Having said that though, Sharon Tal Yguado the Head of Genre at Amazon and the person who would be directly overseeing the work being done, seemed happy that the news was out.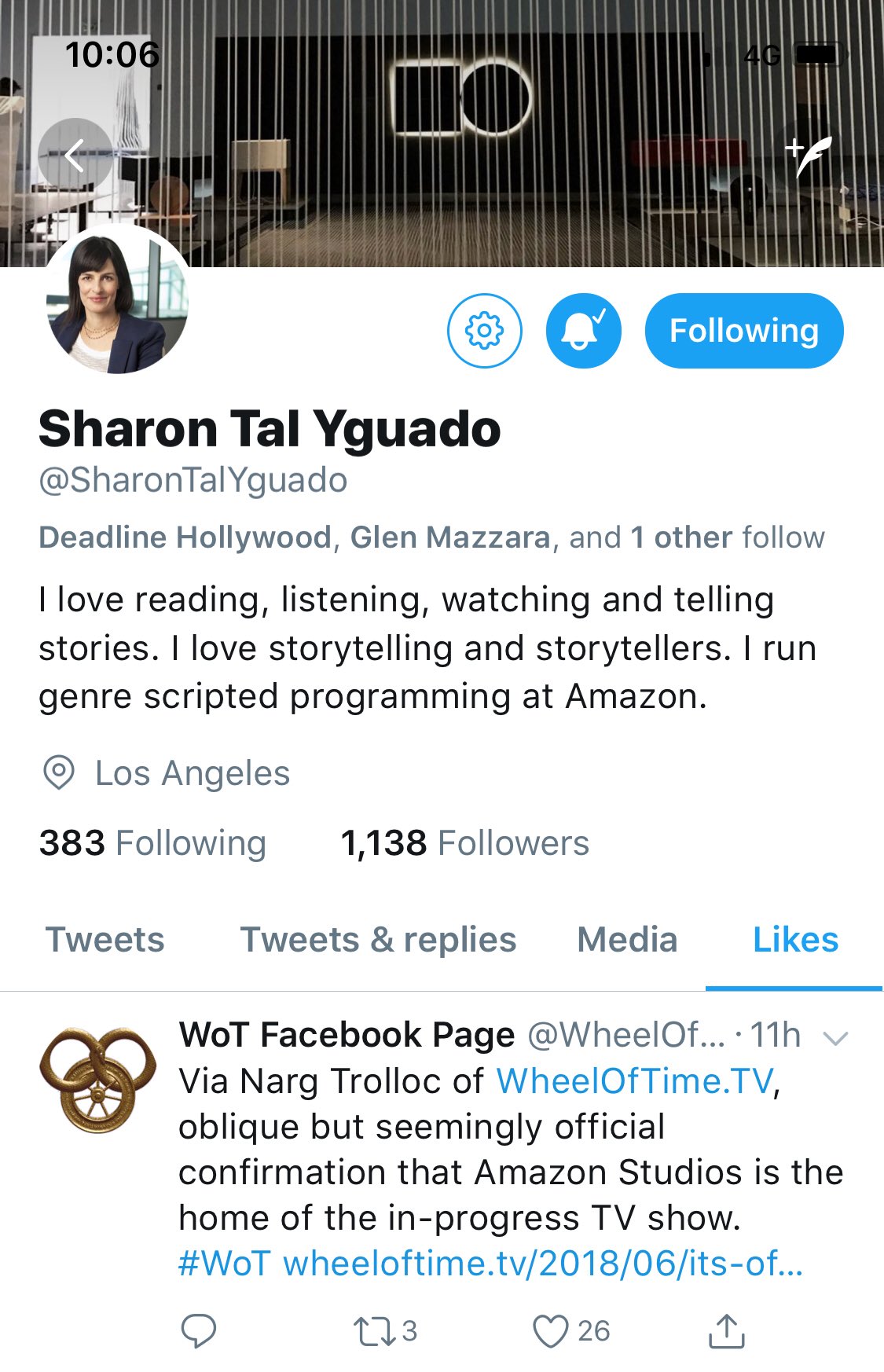 (22 April 2018)
Harriet McDougal confirmed that the show does have a distributor/network attached.
This has been widely speculated but had not been confirmed by anyone attached to the show. No word on who, but
Amazon
remains the favorite given what's below and she said it wasn't a traditional network.

(9 April 2018) Head of Genre/Event series at Amazon Studio's Confirms Dark Tower via Twitter then deletes tweet.
Though not directly related to WoT, this does lend credence to the Deadline article mentioned below. Narg was highly skeptical of WoT actually being in development with Amazon based on just that article, but it would seem highly probable that it is, now that the DT part has been proven correct. Also worth noting is that The DT showrunner mentioned having just completed a new script, and we know Rafe
via Instagram inferred
he had a deadline for his WoT script coming up a few weeks ago. Could be that they had the same Deadline.

(21 Feb 2018) In an article by Deadline concerning Amazon picking up Iain M. Banks' classic sci-fi Culture book series, the following was said:
As part of the effort, Amazon made a mega deal for a Lord Of the Rings TV series and is developing a slew of high-profile titles, including The Dark Tower, Wheel of Time, Ringworld, Lazarus and Snow Crash.
Error, wishful thinking or letting the cat out of the bag? Which ever it is, Narg isn't believing it until Amazon themselves announce it or Deadline actually reports the news in a dedicated article.
Quite a few news websites
have reported the story, most of them focusing on
The Dark Tower
mention using the above quote as their source. Screenrant.com and IGN being the biggest of the bunch, but major Industry sites like Variety, The Hollywood Reporter haven't. Tor.com is also choosing not to bite yet.
Attempts by Narg and others to get clarification from Deadline have yielded zero results and all Amazon had to say was:
Amazon.com does not comment about rumors or speculative news reports.
(9 Feb 2018) Ted Field is in the news again and promoting The Wheel of Time.
In an article on
Deadline
he had the following to say:
"If Beirut is arriving at a difficult time, Field believes his TV show with Sony, Wheel of Time, may find its moment. The show is set in the distant future when women now rule a universe that has been all but destroyed by the male power structure – "the ultimate gender dynamics series," Field says. The show is based on a series of 14 volumes written by Robert Jordan (pen name for James O. Rigney Jr). "Timing is part of the roller coaster ride," Field observes.
(2 Feb 2018)
Rafe Judkins
the Wheel of Time Showrunner
teased us with the Hashtag #WoTmeets LotR
from Guatemala where he was on a writers retreat, seemingly indicating he was working on WoT.
Three weeks ago it was announced that
Rafe had been picked to rewrite the Uncharted Movie
. Looks like that gig isn't getting in the way of him working on WoT.
(18 Jan 2018)
Ted Fields Lawyer spoke to
the Hollywood Reporter and teased us with this:
One of those announcements will be a television series for Wheel of Time
Other than that
not a peep since JordanCon back in April 2017, at which we learnt the following:
Sony Pictures Television has signed a contract with executive producer Ted Field of Radar Productions (with whom Bandersnatch Group signed a contract last year) to develop a TV production of the Wheel of Time series.
And a week or so later:
We understand that Rafe and Ted are currently in discussions with a number of content distributors/networks, and that negotiations will be concluded soon. Sorry, we don't know who they are.
Source for both comments from
Robert Jordan's The Wheel of Time Googleplus page
.
Disclaimer:
Please note that this is a fan site. It is not official. Wheeloftime.tv has no affiliation with Amazon Studios, Sony, Radar Pictures, The Bandersnatch Group or Red Eagle Entertainment.