The Daily Trolloc (52)
Wheel of Time News
The first #WoTWednesday happened
, and Rafe Judkin's tease was
a glimpse of the notes
he is making in the books as he works:
A few things to note here. Firstly the writing in the margin which say's "Inn description" and "Tale of Manetheren". That's a good indication that Moiraine's little speech to the angry mob of Emond's Fielders, is in the script. Secondly, Rafe seems to be taking note of the small details as evidenced by "Inn's dozens tall chimneys" being circled.
Rafe also answered one question in the comments:
Not exactly what we all want to hear...hopefully not a galaxy far far away "far"!
Still, we know he has at least two episode scripts done and is working on more and or the Show Bible. So if we look at a recent fantasy show(The Witcher) that has just started the casting process, it may give us a clue as to how far away "Far" is.
Of course not every show is going to be the same, but the time from the first draft of the pilot script to casting about to begin was six months. Given that Rafe has revealed two scripts and that at least one other writer is working on them with him, you'd have to say he's past the first draft of just the pilot. So, "far" based on The Witcher timeline should/could be less than 6 months. Having said that, we still don't know if The Wheel of Time has been greenlit yet by Amazon, and until we know that, getting an accurate gauge of how far away "far" is, is just a guessing game. It gave Narg something to write about though...😜
Whoever is cast for the role of Semirhage she will have to have an imposing screen presence. The WoT companion says Semi had a "cool, even cold, and imperious air" but when she was in her sadist glory she was ruthless, cruel and a vicious killer. So we are going to need an actress that looks cool, calm, and collected one minute and terrifyingly cruel the next. However, she will also need to have an almost clinical way about here when talking or performing her sadist acts. I mean, she was a Healer during the Age of Legends.
Narg, introduced his new
WoTBaby™ merchandise line: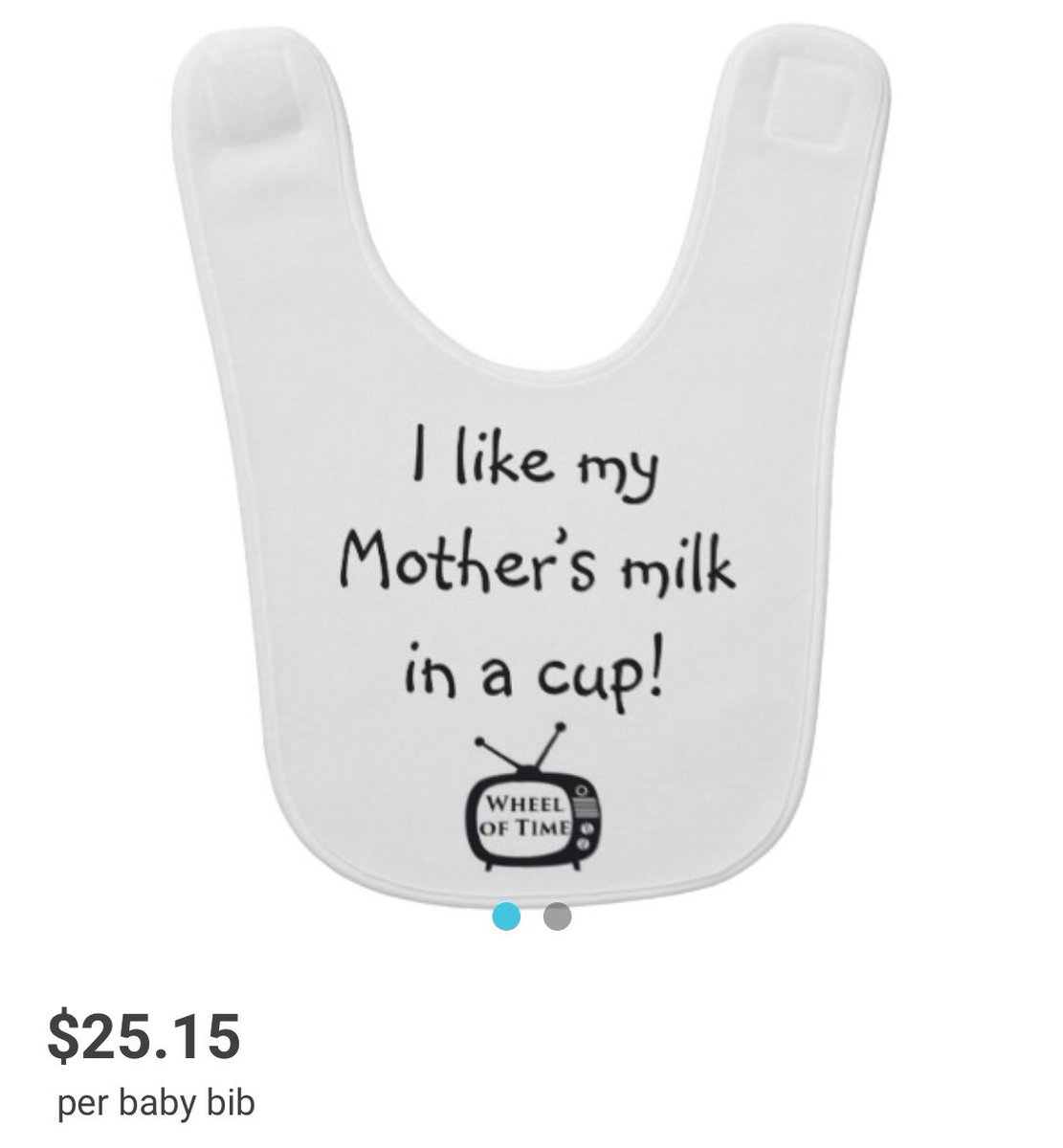 Narg is also looking at adding ID Information bracelets...
Blast From the Past
Many fans say they enjoy the sense of community they find in online forums devoted to the series. And while they trade theories about what may happen to whom, or make suggestions of which actors and actresses they'd like to see in a movie, such forums are hardly restricted to book talk. They're often places to flirt and try on new personalities.

Ultimately, they're places to connect.

"Think of it as a sports bar," suggested Bill Garrett, a computer engineer in his late 20s who constructed a "Wheel of Time" Web site in the mid-1990s, which he has since archived and largely abandoned. "When the game's on TV, pretty much everybody watches it, but when the game fades they turn to talking with one another about their families, their jobs (and) the political scene."

Garrett met his girlfriend through fandom, and others have made lasting ties, meeting at events across the globe. Still others have crossed the line from enjoyment to obsession.
and
At a recent book-signing event, Jordan was gracious and accommodating with an estimated 300 fans who formed an orderly, expectant line that stretched around and outside of an Atlanta, Georgia, bookstore. Signing his chosen name and underscoring twice with a bold flourish on book after book, he thoughtfully considered questions and talked freely about his inspiration and writing process -- things he has doubtless repeated at countless such appearances.

"I work eight hours a day, six and sometimes seven days a week," he said. "In the past six months, it was 12, 14 hours a day. I tried to take half a day off a month, but I generally did not."
and sadly
"I've been warned that if I died before I finished the books, they were going to desecrate my grave," he said with a laugh.
Featured Art
Lastly, thanks for tuning in! Its been just over one year since Narg started the weekly "Daily Trolloc" news recaps, and over 2 years since he launched this blog. Hopefully you've gotten something out of it. Narg's aim, has to try and keep people engaged and exited about the TV show. Clearly that's easier now that Rafe has started to reveal details, but just remember, the show isn't a sure thing yet, and the best way for us fans to help make it happen, is to talk about it it on social media and show the studio execs that there is a large inbuilt fanbase just dying for this to happen. If you are an Amazon customer it probably also wouldn't hurt to help to
write to Amazon Studios
, to tell them how much you want this show, and why they should make it. As shown by the recent saving of
The Expanse
and
Lucifer
, fan activism can make a difference.
The Wheel of Time TV Show
News:
(30 July 2018)
Episode two's title is revealed as "Shadow's Waiting" and Amanda Kate Shuman is the writer:
(23 July 2018) The title for Episode one (Leavetaking) is revealed by Rafe on Instagram and Twitter:






(14 July 2018)

Rafe Judkins updated us on what he was working on:

You can read everything he had to say
HERE
.
(11 June 2018)
Amazon Studios Head, Jennifer Salke confirmed that the Wheel of Time is in development at Amazon
during an interview with
Deadline
.
DEADLINE: What is the status of other high-profile genre projects that have been in early development at Amazon or stuck in deal-making limbo for a long time, The Wheel of Time (based on the fantasy books), and The Dark Tower, (based on the book and the movie)?

SALKE: Those are scripts that I haven't gotten yet. I'll be seeing those, that material, in the coming weeks. None of those things are dead. They're very much alive.
While this is great news, Narg must stress that until Amazon come out and say that they have ordered the show to series and it goes into production, there is still a possibility that it won't happen.
Having said that though, Sharon Tal Yguado the Head of Genre at Amazon and the person who would be directly overseeing the work being done, seemed happy that the news was out.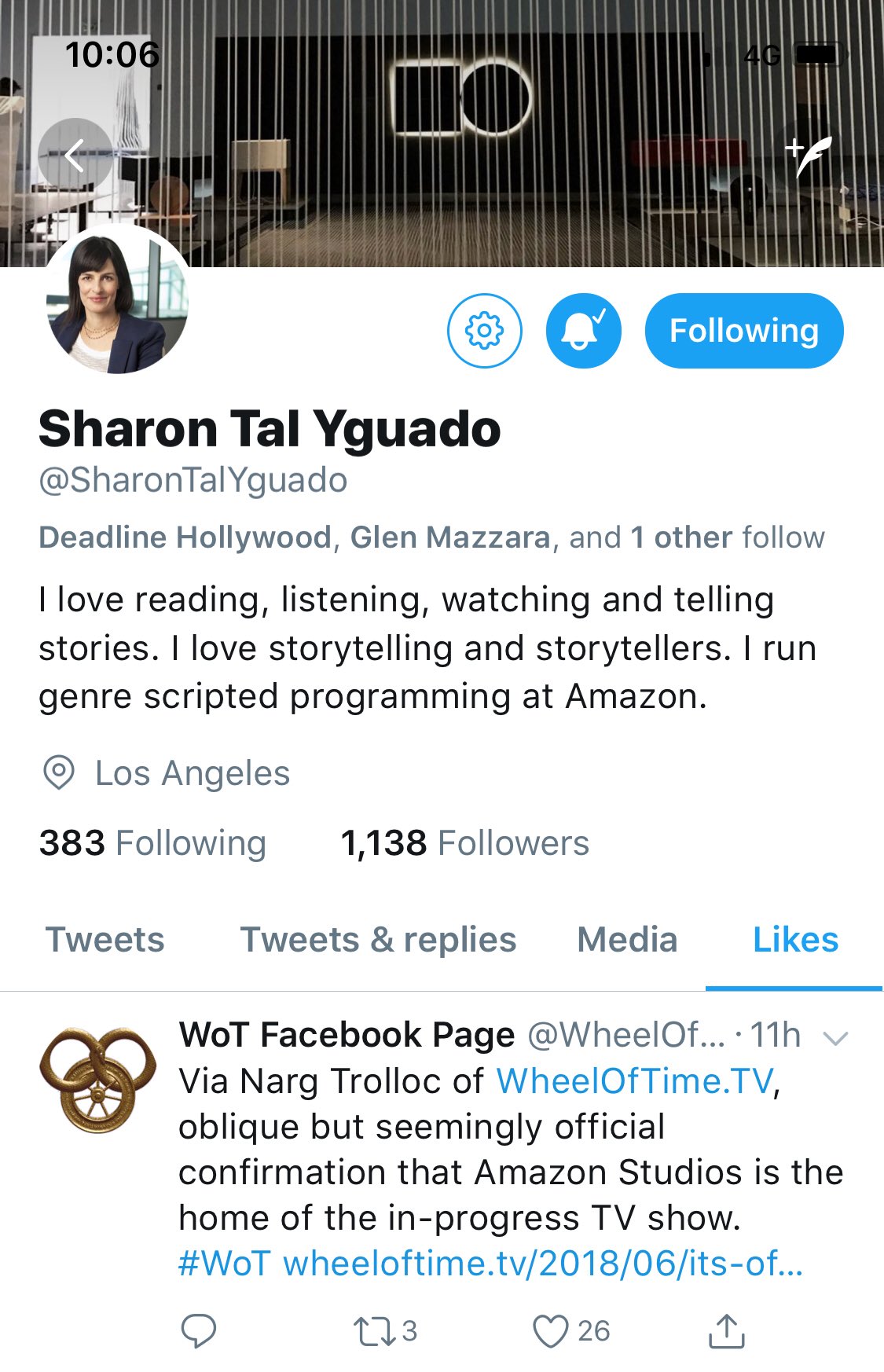 (22 April 2018)
Harriet McDougal confirmed that the show does have a distributor/network attached.
This has been widely speculated but had not been confirmed by anyone attached to the show. No word on who, but
Amazon
remains the favorite given what's below and she said it wasn't a traditional network.

(9 April 2018) Head of Genre/Event series at Amazon Studio's Confirms Dark Tower via Twitter then deletes tweet.
Though not directly related to WoT, this does lend credence to the Deadline article mentioned below. Narg was highly skeptical of WoT actually being in development with Amazon based on just that article, but it would seem highly probable that it is, now that the DT part has been proven correct. Also worth noting is that The DT showrunner mentioned having just completed a new script, and we know Rafe
via Instagram inferred
he had a deadline for his WoT script coming up a few weeks ago. Could be that they had the same Deadline.

(21 Feb 2018) In an article by Deadline concerning Amazon picking up Iain M. Banks' classic sci-fi Culture book series, the following was said:
As part of the effort, Amazon made a mega deal for a Lord Of the Rings TV series and is developing a slew of high-profile titles, including The Dark Tower, Wheel of Time, Ringworld, Lazarus and Snow Crash.
Error, wishful thinking or letting the cat out of the bag? Which ever it is, Narg isn't believing it until Amazon themselves announce it or Deadline actually reports the news in a dedicated article.
Quite a few news websites
have reported the story, most of them focusing on
The Dark Tower
mention using the above quote as their source. Screenrant.com and IGN being the biggest of the bunch, but major Industry sites like Variety, The Hollywood Reporter haven't. Tor.com is also choosing not to bite yet.
Attempts by Narg and others to get clarification from Deadline have yielded zero results and all Amazon had to say was:
Amazon.com does not comment about rumors or speculative news reports.
(9 Feb 2018) Ted Field is in the news again and promoting The Wheel of Time.
In an article on
Deadline
he had the following to say:
"If Beirut is arriving at a difficult time, Field believes his TV show with Sony, Wheel of Time, may find its moment. The show is set in the distant future when women now rule a universe that has been all but destroyed by the male power structure – "the ultimate gender dynamics series," Field says. The show is based on a series of 14 volumes written by Robert Jordan (pen name for James O. Rigney Jr). "Timing is part of the roller coaster ride," Field observes.
(2 Feb 2018)
Rafe Judkins
the Wheel of Time Showrunner
teased us with the Hashtag #WoTmeets LotR
from Guatemala where he was on a writers retreat, seemingly indicating he was working on WoT.
Three weeks ago it was announced that
Rafe had been picked to rewrite the Uncharted Movie
. Looks like that gig isn't getting in the way of him working on WoT.
(18 Jan 2018)
Ted Fields Lawyer spoke to
the Hollywood Reporter and teased us with this:
One of those announcements will be a television series for Wheel of Time
Other than that
not a peep since JordanCon back in April 2017, at which we learnt the following:
Sony Pictures Television has signed a contract with executive producer Ted Field of Radar Productions (with whom Bandersnatch Group signed a contract last year) to develop a TV production of the Wheel of Time series.
And a week or so later:
We understand that Rafe and Ted are currently in discussions with a number of content distributors/networks, and that negotiations will be concluded soon. Sorry, we don't know who they are.
Source for both comments from
Robert Jordan's The Wheel of Time Googleplus page
.
Disclaimer:
Please note that this is a fan site. It is not official. Wheeloftime.tv has no affiliation with Amazon Studios, Sony, Radar Pictures, The Bandersnatch Group or Red Eagle Entertainment.