Amanda Kate Shuman - Wheel of Time TV Series Writer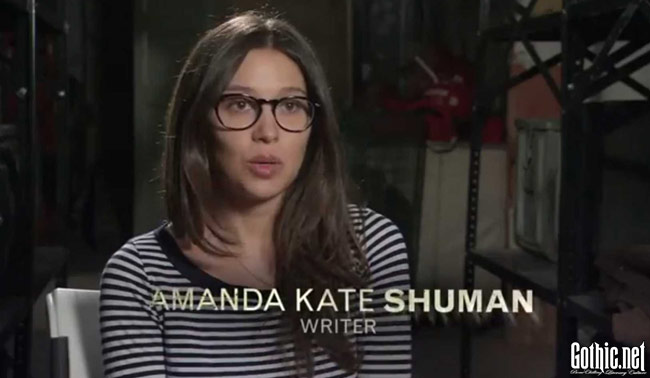 Rafe Judkins, The Wheel of Time TV series Showrunner
has confirmed that Amanda Kate Shuman is a writer on the show
. Narg
first reported the possibility of Shuman being involved
back in February, when Rafe was on a writers retreat with her in Guatemala.
So who is Amanda Kate Shuman and what has she done?
Well other than that she takes in foster dogs, Narg not know much about her, but
IMDb
does let us know what she's done in the past for work.
Shuman worked on four episodes of Chuck as an assistant writer and writer during the same time Rafe Judkins was also working on the show in 2011. One of the assistant writing credits is for "Chuck Versus the Bearded Bandit", which Rafe is listed as the writer for.
2013 has her working on "The Following" for the first two seasons, where she wrote two episodes, "The Curse" and "Welcome Home".
From 2013-2015 she went from assistant story editor(7 episodes) to executive story editor(22) on The Blacklist and also wrote four episodes. "The Deer Hunter", " Monarch Douglas Bank", "Ivan" and "Gina Zanetakos". INO The Blacklist went downhill after she left.
The story editor has many responsibilities, including finding new script/breakdown writers, developing stories with writers, and ensuring that scripts are suitable for production. The story editor will work closely with the writer on each draft of their story and script, giving the writer feedback on the quality of their work, suggesting improvements that can be made while also ensuring that practical issues, like continuity and correct running time, are adhered to. Many primetime series have an executive story editor and a story editor.
Not bad experience to have when it comes to writing for the Wheel of Time.
2016 has her working on
Berlin Station
and earning two "story by" and one "written by" credit. "
Just Decisions
", "
Unter Druck
" and "
Proof of Life
". Narg researched the difference between the two credits, and it appears that "story by" means the person came up with the idea for the episode, while "written by" goes to the person who actually wrote the episode. Narg was a bit confused by it all though, so don't quote Narg on that...
Narg has only watched
The Following
and
The Blacklist,
and he enjoyed both, so that's a positive for him, but the main thing we should take away from Amanda Kate Shuman's history, is that she has worked on some hit shows, has experience working with Rafe, and her editor experience will no doubt come in handy for a show with an epic scope, like
The Wheel of Time
.