The Daily Trolloc (44)
Issue 44. (

Art by Michelle Tolo

)
TV News and Info at the bottom (Amazon confirmed!)
General Wheel of Time News
Two new podcasts(well one podcast and one YouTube thingy)
hit the web this week:
Welcome to the pilot episode of the WoTchers Podcast. In this episode, our intrepid authors discuss the first book of The Wheel of Time, Eye of the World, but they don't get very far. Introductions are made, bona fides are shared, and the discussion begins in earnest about why some love this series, and some believe it is a typical fantasy knockoff.

Wherever you stand in your WoT fandom, we think you'll enjoy the lively discussion and debate around the fantasy genre, tropes, and why these stories matter so much to us.
The YouTube thingy is from Daniel Greene who has done a tonne of Wheel of Time related videos on his channel before. His new show is called #WoTTalk:
The first episode in Wheel of Time Talk (WoTTalk). In this one we go into Spoiler Free discussions, spoiler-filled discussions, hit the news, and dive into the opening scenes with the prologue!
While Narg thinks that Daniel has some weird views on the Wheel of Time, he's easy to listen to, so check it out. One thing though Daniel, if you happen to read this: referring to the Head of Amazon Studios as "the woman" and not by her title and or name is firstly disrespectful and secondly down plays the import of what she said, and yes having the head of a studio come out and publicly acknowledge that they have a show in development is indeed confirmation. Everything before, and I quote Amazon here, was just "Rumor and Speculation".
Rob Christianson has given us
another Pop Vinyl to consider: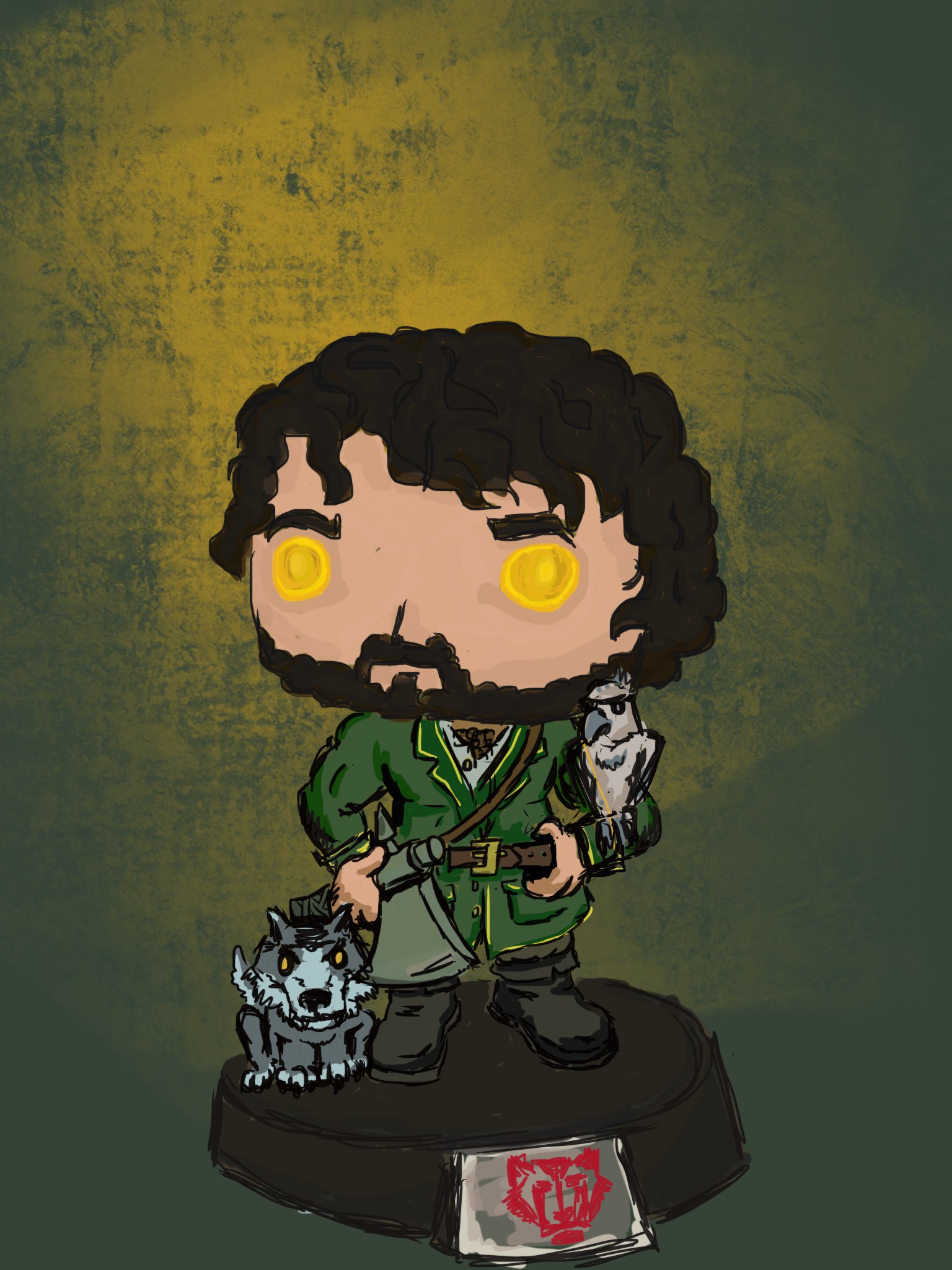 Reading The Wheel of Time continues:
The Beauty of Simplicity in Robert Jordan's The Eye of the World (Part 17)
Getting away from my Padan Fain dilemma and back to the beginning of the recap, there are a lot of beautiful details in Chapter 46. I included that whole passage of the discussion between Agelmar, Loial, and Lan about the rebuilding of the walls not so much because of its importance to the plot but because I think the message, or lesson if you will, fits really well with the overall tone and structure of the narration of this chapter. The description of the split tree, for example, gives the reader a very evocative idea of the landscape and weather much more cleanly than a long description would have. I have noticed that Jordan tends to favor both types of narration at different points, some descriptions will be really long and involved, others will be clever little gems like the bit about the tree or the spring curtains in the windows of the abandoned farms. I also very much enjoyed Mat's little joke about everyone in Fal Dara not wearing their hoods because they're all so good looking—it's funny and cute, not culturally insensitive really, and for once the reason it was a bit inappropriate wasn't so obvious you kinda want to pinch him. Lan didn't seem amused, but I can imagine some citizens of the city finding that quip very funny.
Narg translated the following from the Book of Narg
...
Seemed relevant
Featured Art
The Wheel of Time TV Show
News:
(11 June 2018)
Amazon Studios Head, Jennifer Salke confirmed that the Wheel of Time is in development at Amazon
during an interview with
Deadline
.
DEADLINE: What is the status of other high-profile genre projects that have been in early development at Amazon or stuck in deal-making limbo for a long time, The Wheel of Time (based on the fantasy books), and The Dark Tower, (based on the book and the movie)?

SALKE: Those are scripts that I haven't gotten yet. I'll be seeing those, that material, in the coming weeks. None of those things are dead. They're very much alive.
While this is great news, Narg must stress that until Amazon come out and say that they have ordered the show to series and it goes into production, there is still a possibility that it won't happen.
Having said that though, Sharon Tal Yguado the Head of Genre at Amazon and the person who would be directly overseeing the work being done, seemed happy that the news was out.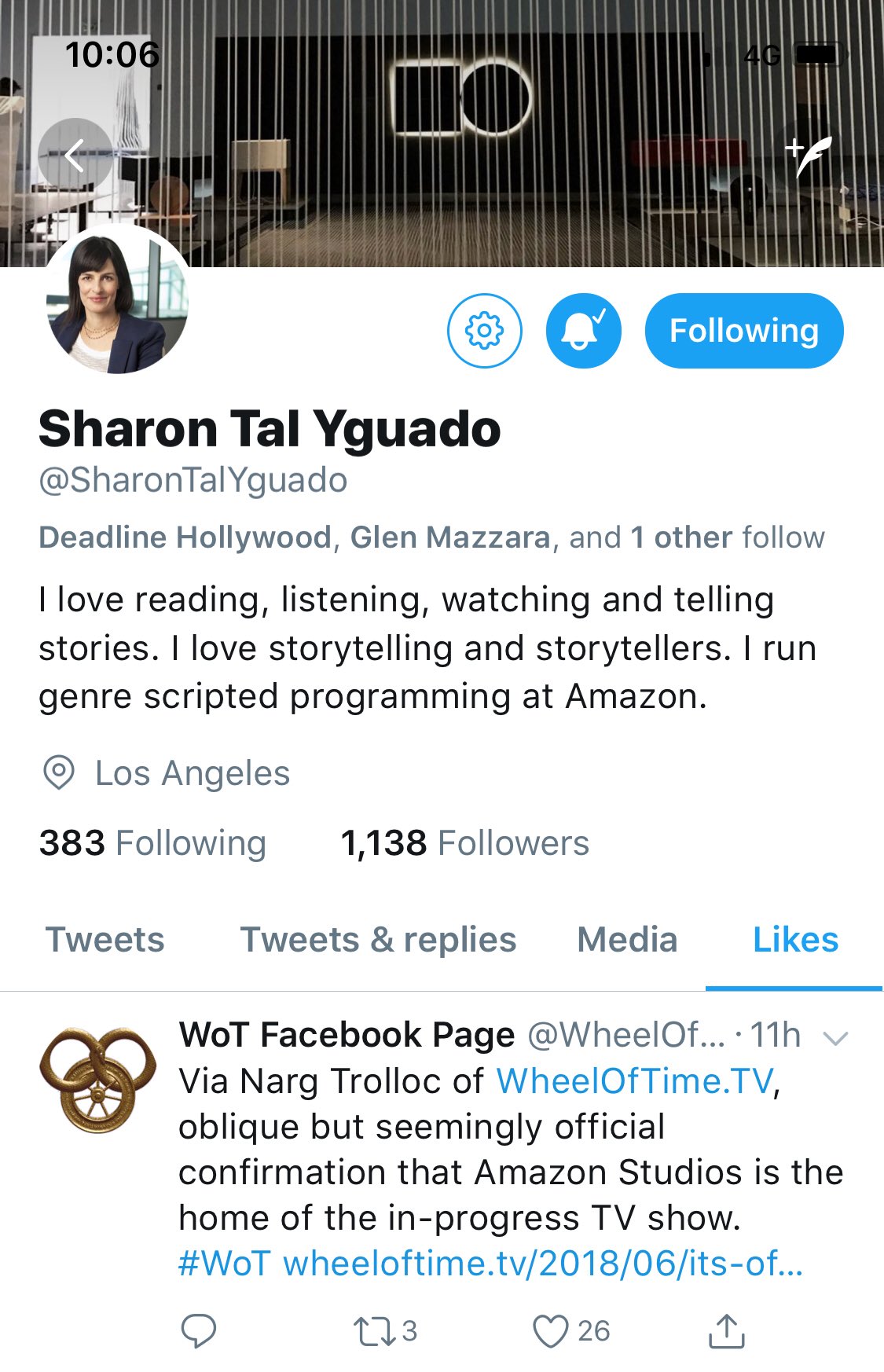 (22 April 2018)
Harriet McDougal confirmed that the show does have a distributor/network attached.
This has been widely speculated but had not been confirmed by anyone attached to the show. No word on who, but
Amazon
remains the favorite given what's below and she said it wasn't a traditional network.

(9 April 2018) Head of Genre/Event series at Amazon Studio's Confirms Dark Tower via Twitter then deletes tweet.
Though not directly related to WoT, this does lend credence to the Deadline article mentioned below. Narg was highly skeptical of WoT actually being in development with Amazon based on just that article, but it would seem highly probable that it is, now that the DT part has been proven correct. Also worth noting is that The DT showrunner mentioned having just completed a new script, and we know Rafe
via Instagram inferred
he had a deadline for his WoT script coming up a few weeks ago. Could be that they had the same Deadline.

(21 Feb 2018) In an article by Deadline concerning Amazon picking up Iain M. Banks' classic sci-fi Culture book series, the following was said:
As part of the effort, Amazon made a mega deal for a Lord Of the Rings TV series and is developing a slew of high-profile titles, including The Dark Tower, Wheel of Time, Ringworld, Lazarus and Snow Crash.
Error, wishful thinking or letting the cat out of the bag? Which ever it is, Narg isn't believing it until Amazon themselves announce it or Deadline actually reports the news in a dedicated article.
Quite a few news websites
have reported the story, most of them focusing on
The Dark Tower
mention using the above quote as their source. Screenrant.com and IGN being the biggest of the bunch, but major Industry sites like Variety, The Hollywood Reporter haven't. Tor.com is also choosing not to bite yet.
Attempts by Narg and others to get clarification from Deadline have yielded zero results and all Amazon had to say was:
Amazon.com does not comment about rumors or speculative news reports.
(9 Feb 2018) Ted Field is in the news again and promoting The Wheel of Time.
In an article on
Deadline
he had the following to say:
"If Beirut is arriving at a difficult time, Field believes his TV show with Sony, Wheel of Time, may find its moment. The show is set in the distant future when women now rule a universe that has been all but destroyed by the male power structure – "the ultimate gender dynamics series," Field says. The show is based on a series of 14 volumes written by Robert Jordan (pen name for James O. Rigney Jr). "Timing is part of the roller coaster ride," Field observes.
(2 Feb 2018)
Rafe Judkins
the Wheel of Time Showrunner
teased us with the Hashtag #WoTmeets LotR
from Guatemala where he was on a writers retreat, seemingly indicating he was working on WoT.
Three weeks ago it was announced that
Rafe had been picked to rewrite the Uncharted Movie
. Looks like that gig isn't getting in the way of him working on WoT.
(18 Jan 2018)
Ted Fields Lawyer spoke to
the Hollywood Reporter and teased us with this:
One of those announcements will be a television series for Wheel of Time
Other than that
not a peep since JordanCon back in April 2017, at which we learnt the following:
Sony Pictures Television has signed a contract with executive producer Ted Field of Radar Productions (with whom Bandersnatch Group signed a contract last year) to develop a TV production of the Wheel of Time series.
And a week or so later:
We understand that Rafe and Ted are currently in discussions with a number of content distributors/networks, and that negotiations will be concluded soon. Sorry, we don't know who they are.
Source for both comments from
Robert Jordan's The Wheel of Time Googleplus page
.