The Daily Trolloc (43)
Issue 43. (

Art by Charles Keegan

)
TV News and Info at the bottom
General Wheel of Time News
The 2018 Robert Jordan Memorial Scholarship is open for applications:
The Robert Jordan Memorial Scholarship is an annual scholarship awarded to fans of the Wheel of Time, one undergraduate student and one graduate student, at an accredited college or university. Previously called the Servant of All Scholarship, it was renamed in 2007 to memorialize Robert Jordan's life. In 2010, the scholarship was opened to all Wheel of Time fans, instead of being restricted to TarValon.Net members.
Any student who is a current undergraduate or graduate at an accredited college or university and can write in the English language qualifies. Previous recipients can reapply as long as they are still eligible.
The amount of the scholarship is $500 per student.
We will be accepting applications starting June 1, 2018 through July 5, 2018. You can access the application at the following link:
https://goo.gl/forms/Zpo0rfQoKrHotFpd2
The scholarships are awarded based on an essay written on a topic chosen by the Officers and Director of Community Outreach. This year, we ask you "How do you plan to use your studies to become a Servant of All?" Essays are read blind and voted on by the Hall of the Tower of TarValon.net Inc.
Narg put together a listing of current and past
Wheel of Time podcasts
. There's a little bit of info about each one and reviews to help you decide which will suit you best.
Don't forget to keep voting in The Great American Read!
You can vote daily and up to three times a day for the same book, if you vote via the
website
, Twitter and Facebook!
Bad humans in Prison can be productive WoT citizens
. The following wallet
was made by an inmate for a Prison Guard
:
Reading the Wheel of Time
:
Learning Courage in Crushing Darkness in Robert Jordan's The Eye of the World (Part 16)
One of my favorite aspects of epic fantasy quest stories is how they engage with the idea of what it means to be a hero, and what it means to be brave. From the fact that only Frodo is naturally selfless and unambitious enough to resist the corruption of the One Ring long enough to get to Mordor, to Taran in The Chronicles of Prydain, whose journey teaches him what a true hero is, that there is more honor in a plowed field than one soaked in blood, and that "every man is a hero if he strives more for others than himself alone" to the myriad of tales that explain how courage is not the absence of fear but perseverance in the face of it, epic fantasy quests often teach their young heroes, and therefore their readers, to dispel the traditional notions of heroism and bravery for a more complex, and ultimately rewarding, narrative.
Featured Art
This week is a sample of some fresh art!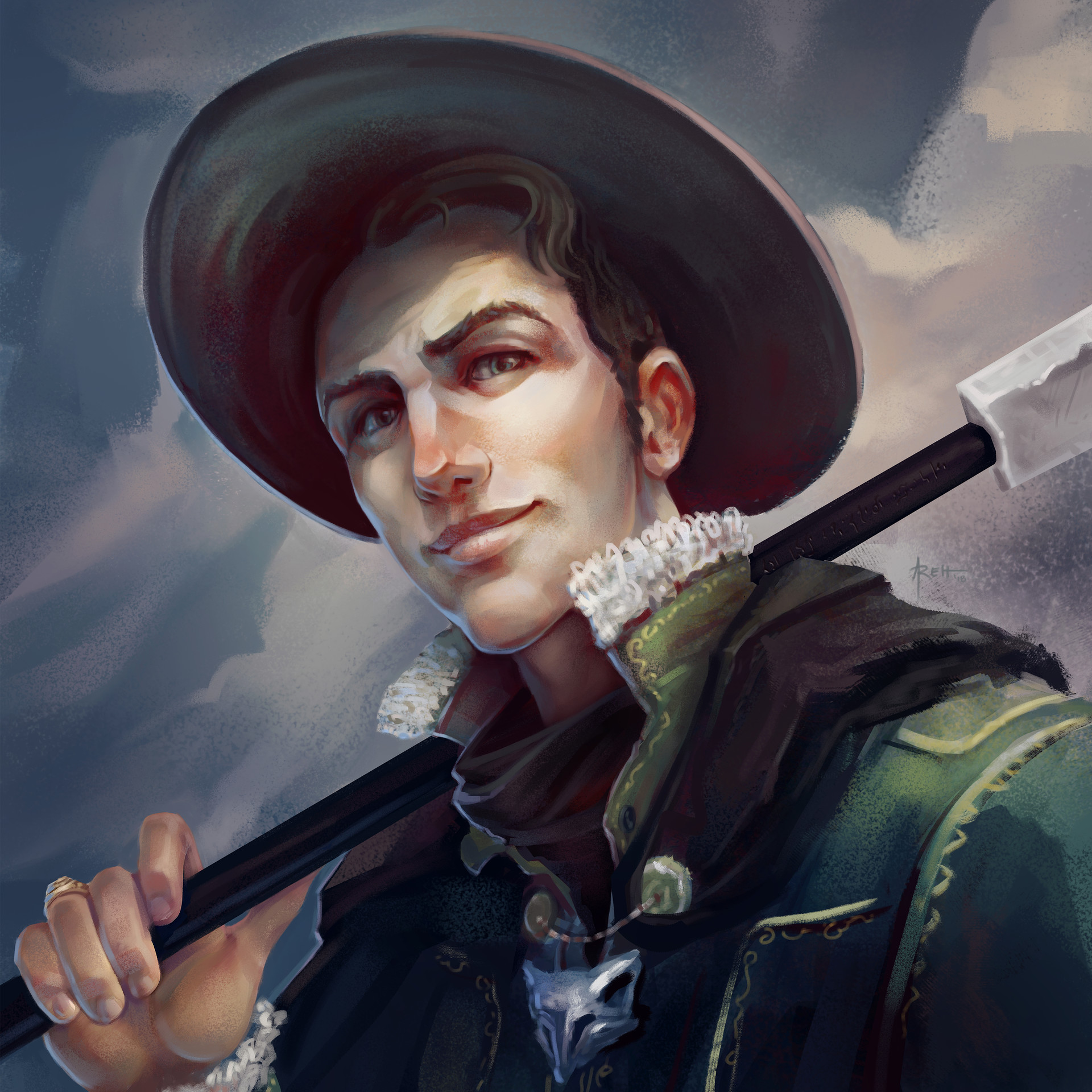 The Wheel of Time TV Show
Related News
:
HBO have ordered a Pilot
for one of their
potential Game of Thrones spin offs
:
HBO has given a pilot order to a prequel series from writer Jane Goldman, one of five "Game of Thrones" projects that has been in the works.

Taking place thousands of years before the events of "Game of Thrones," Goldman's series chronicles the world's descent from the golden Age of Heroes into its darkest hour. And only one thing is for sure: from the horrifying secrets of Westeros' history to the true origin of the white walkers, the mysteries of the East to the Starks of legend–it's not the story we think we know.
Looks like we will be watching GoT spin offs before any potential WoT series comes about...
The Witcher Showrunner
made some interesting tweets about how she is going about adapting the books:
News:
(22 April 2018)
Harriet McDougal confirmed that the show does have a distributor/network attached.
This has been widely speculated but had not been confirmed by anyone attached to the show. No word on who, but
Amazon
remains the favorite given what's below and she said it wasn't a traditional network.

(9 April 2018) Head of Genre/Event series at Amazon Studio's Confirms Dark Tower via Twitter then deletes tweet.
Though not directly related to WoT, this does lend credence to the Deadline article mentioned below. Narg was highly skeptical of WoT actually being in development with Amazon based on just that article, but it would seem highly probable that it is, now that the DT part has been proven correct. Also worth noting is that The DT showrunner mentioned having just completed a new script, and we know Rafe
via Instagram inferred
he had a deadline for his WoT script coming up a few weeks ago. Could be that they had the same Deadline.

(21 Feb 2018) In an article by Deadline concerning Amazon picking up Iain M. Banks' classic sci-fi Culture book series, the following was said:
As part of the effort, Amazon made a mega deal for a Lord Of the Rings TV series and is developing a slew of high-profile titles, including The Dark Tower, Wheel of Time, Ringworld, Lazarus and Snow Crash.
Error, wishful thinking or letting the cat out of the bag? Which ever it is, Narg isn't believing it until Amazon themselves announce it or Deadline actually reports the news in a dedicated article.
Quite a few news websites
have reported the story, most of them focusing on
The Dark Tower
mention using the above quote as their source. Screenrant.com and IGN being the biggest of the bunch, but major Industry sites like Variety, The Hollywood Reporter haven't. Tor.com is also choosing not to bite yet.
Attempts by Narg and others to get clarification from Deadline have yielded zero results and all Amazon had to say was:
Amazon.com does not comment about rumors or speculative news reports.
(9 Feb 2018) Ted Field is in the news again and promoting The Wheel of Time.
In an article on
Deadline
he had the following to say:
"If Beirut is arriving at a difficult time, Field believes his TV show with Sony, Wheel of Time, may find its moment. The show is set in the distant future when women now rule a universe that has been all but destroyed by the male power structure – "the ultimate gender dynamics series," Field says. The show is based on a series of 14 volumes written by Robert Jordan (pen name for James O. Rigney Jr). "Timing is part of the roller coaster ride," Field observes.
(2 Feb 2018)
Rafe Judkins
the Wheel of Time Showrunner
teased us with the Hashtag #WoTmeets LotR
from Guatemala where he was on a writers retreat, seemingly indicating he was working on WoT.
Three weeks ago it was announced that
Rafe had been picked to rewrite the Uncharted Movie
. Looks like that gig isn't getting in the way of him working on WoT.
(18 Jan 2018)
Ted Fields Lawyer spoke to
the Hollywood Reporter and teased us with this:
One of those announcements will be a television series for Wheel of Time
Other than that
not a peep since JordanCon back in April 2017, at which we learnt the following:
Sony Pictures Television has signed a contract with executive producer Ted Field of Radar Productions (with whom Bandersnatch Group signed a contract last year) to develop a TV production of the Wheel of Time series.
And a week or so later:
We understand that Rafe and Ted are currently in discussions with a number of content distributors/networks, and that negotiations will be concluded soon. Sorry, we don't know who they are.
Source for both comments from
Robert Jordan's The Wheel of Time Googleplus page
.