The Daily Trolloc (33)
Issue 33. (
Art by Nahelus
)
The Wheel of Time TV Show
What we know:

Network: Unknown
News:

(21 Feb 2018) In an article by Deadline concerning Amazon picking up Iain M. Banks' classic sci-fi Culture book series, the following was said:
As part of the effort, Amazon made a mega deal for a Lord Of the Rings TV series and is developing a slew of high-profile titles, including The Dark Tower, Wheel of Time, Ringworld, Lazarus and Snow Crash.
Error, wishful thinking or letting the cat out of the bag? Which ever it is, Narg isn't believing it until Amazon themselves announce it or Deadline actually reports the news in a dedicated article.
Quite a few news websites
have reported the story, most of them focusing on
The Dark Tower
mention using the above quote as their source. Screenrant.com and IGN being the biggest of the bunch, but major Industry sites like Variety, The Hollywood Reporter haven't. Tor.com is also choosing not to bite yet.
Attempts by Narg and others to get clarification from Deadline have yielded zero results and all Amazon had to say was:
Amazon.com does not comment about rumors or speculative news reports.
In conclusion, it's up to you whether you think the news of two major bestselling book franchises being picked up by Amazon, only merits a three line offhand mention. Clearly some people do, while others don't. It could turn out to be true, but INO there is no way that Amazon or Deadline would have wanted the news to come out like that.
(9 Feb 2018) Ted Field is in the news again and promoting The Wheel of Time.
In an article on
Deadline
he had the following to say:
"If Beirut is arriving at a difficult time, Field believes his TV show with Sony, Wheel of Time, may find its moment. The show is set in the distant future when women now rule a universe that has been all but destroyed by the male power structure – "the ultimate gender dynamics series," Field says. The show is based on a series of 14 volumes written by Robert Jordan (pen name for James O. Rigney Jr). "Timing is part of the roller coaster ride," Field observes.
(2 Feb 2018)
Rafe Judkins
the Wheel of Time Showrunner
teased us with the Hashtag #WoTmeets LotR
from Guatemala where he was on a writers retreat, seemingly indicating he was working on WoT.
Three weeks ago it was announced that
Rafe had been picked to rewrite the Uncharted Movie
. Looks like that gig isn't getting in the way of him working on WoT.
(18 Jan 2018)
Ted Fields Lawyer spoke to
the Hollywood Reporter and teased us with this:
One of those announcements will be a television series for Wheel of Time
Other than that
not a peep since JordanCon back in April 2017, at which we learnt the following:
Sony Pictures Television has signed a contract with executive producer Ted Field of Radar Productions (with whom Bandersnatch Group signed a contract last year) to develop a TV production of the Wheel of Time series.
And a week or so later:
We understand that Rafe and Ted are currently in discussions with a number of content distributors/networks, and that negotiations will be concluded soon. Sorry, we don't know who they are.
Source for both comments from
Robert Jordan's The Wheel of Time Googleplus page
.
Related News:
Since October, Apple has made deals for 12 projects, nine of them "straight-to-series" orders — an aggressive method of creating new programming that skips the pilot-episode stage.

When Apple began courting producers last year, it said it had a budget of about $1 billion to work with. Now it is becoming clear that the company will blow well past that figure. Perhaps more meaningful, though, is that Apple's strong brand name and its willingness to write big checks have quickly made it a top draw for show creators and stars.
Producers and entertainment executives who have met recently with Apple executives said the company has been leaning toward programming in keeping with its bright, optimistic brand identity.
Would Wheel of Time fit? Maybe...If Sony and Ted are still looking for a home for the show, then there is still hope for Apple, as they have yet to pick up a Fantasy show.
Amazon have been in the news
again,
re spending big on book adaptations
:
Now, the company is reportedly adding another potentially massive asset to its lineup: according to the Financial Times, Amazon is in talks to adapt the popular Chinese book series The Three-Body Problem into a three-season show. How much will that cost? A smooth $1 billion. That may be a drop in the bucket compared to Jeff Bezos's net worth, but it's also a hefty enough sum to make this potential adaptation one of the most expensive shows of all time—and that's before production even begins.
General Wheel of Time News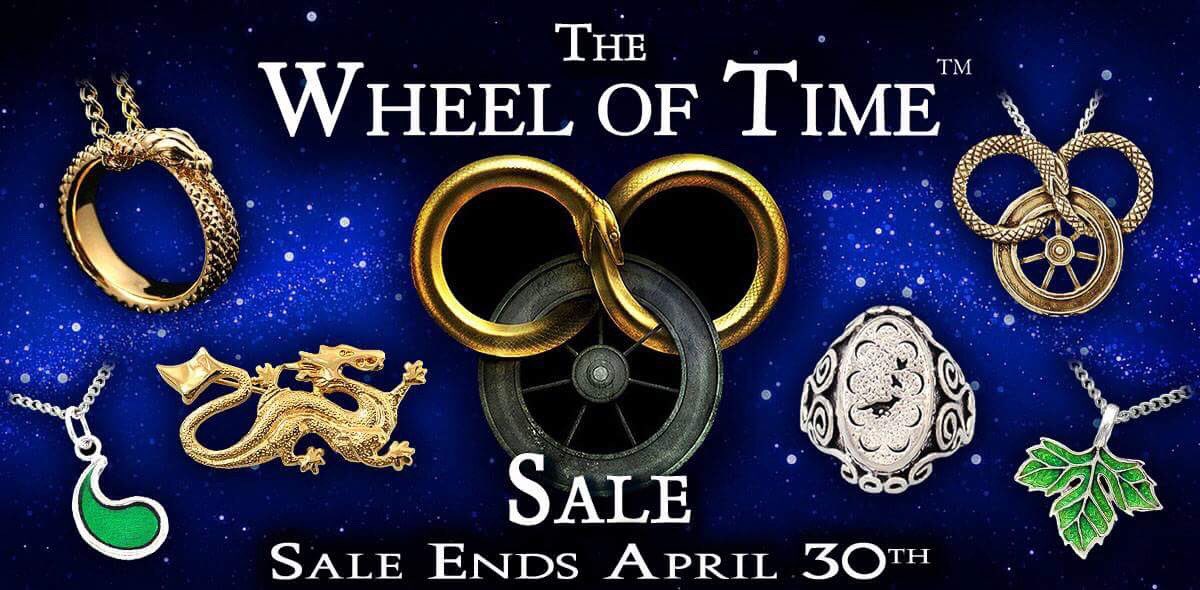 The above is something everyone should do at any bookstore...
Interesting bits:
Apparently this is an unpopular opinion, but I think Nynaeve might be my favorite character at this point. I'm the oldest of my siblings, and so the fact that Nynaeve is not much older than Egwene and Rand and Perrin and Mat and yet is in an important position as caretaker and guardian over them is something that really resonates with me. Rand might view Nynaeve as bossy and intimidating (in a bad way), but even in the beginning of the book, I got a sense of Nynaeve as being very dedicated and passionate about the people in her charge.
and
Nynaeve's attitude to being told about her gift is a much more deliberate rejection. As a queer person, it's impossible for me not to draw a parallel between Nynaeve's reaction and my own struggle with my personal identity. I can perfectly imagine Nynaeve, as a young apprentice Wisdom, having a sense of something different about herself, a feeling that she shies away from recognizing. Since magic is viewed in her part of the world as being problematic at best and a connection to the Dark One at worst, it is something that she feels is wrong and evil.
Can't wait for TV show?
Need something to tide you over? Try watching all the cut scenes from The 1999 Wheel of Time Game! Contains some Spoilers!
Quote of the Week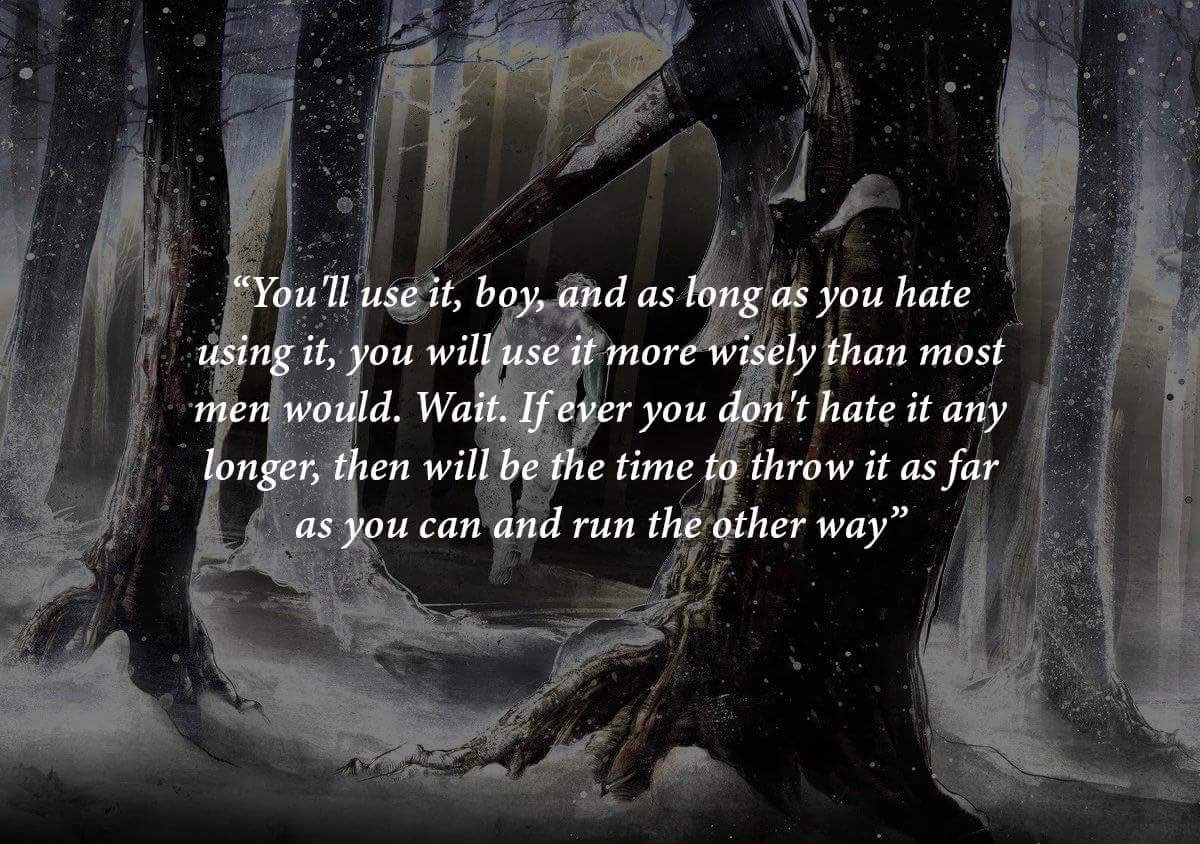 Featured Artist
That's all from Narg this week! Cya again next week mb....